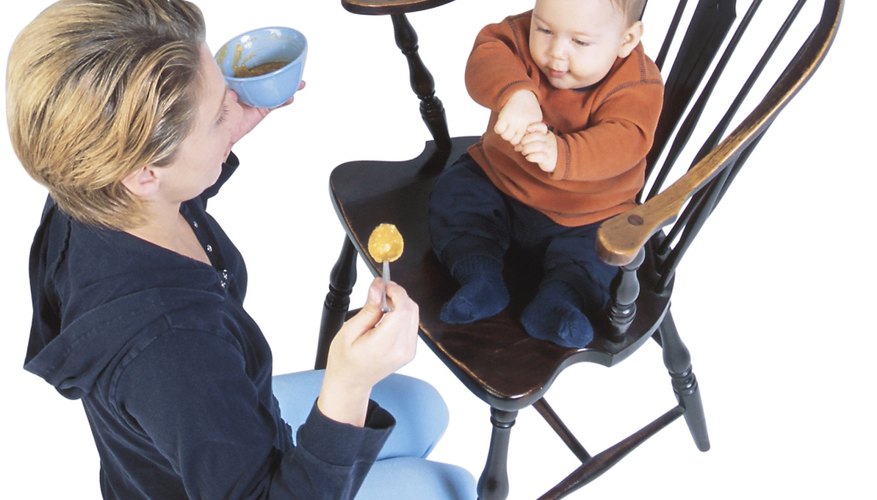 First the bad news: kids are fussy eaters. There's no magic lentil recipe that all toddlers will eagerly lap up. But hey, the good news is that lentils are so versatile you can make them appeal to even the pickiest little one. Lentils are a great source of iron, dietary fiber, protein, minerals and B vitamins, so they're ideal for growing kids. Start with a simple soup, then try some twists to freshen things up and keep your growing gourmet hollering for more.
Preparation
You can start with by washing 1 cup of brown lentils in a sieve, fishing out any small stones you spot. Brown lentils are better for soup and toddlers than green or red lentils because they turn mushy when cooked. If you've got time, soak the lentils for an hour or two in a covered bowl, containing 6 cups of cold water. You can skip this step if you're in a hurry, but it helps your cooked lentils turn out soft and melt-in-your-mouth mushy -- just the way little kids like them.
Simple Soup
When you ready to start making the soup, in a stockpot, gently fry a small chopped onion in 2 tablespoons of olive oil. When the onion is soft and golden, add 1 teaspoon of ground ginger. Stir well, for a couple of minutes. Add the drained lentils, a 14 ounce can of chopped tomatoes and two pints of vegetable or chicken stock. Bring to the boil, turn down the heat and let your soup simmer for around an hour.
Keep It Colorful
You can cheer up your basic lentil soup with a few twists. Toddlers love bright colors, so around 20 minutes before serving, add tiny orange slivers of chopped carrot, yellow bobbles of cooked sweet corn, green peas, or purple cubes of cooked beetroot. You can also try chopped zucchini, fried golden in a little olive oil. The more colorful the dish, the more intrigued your toddler will be. Just sitting together and naming all the colors is often enough to motivate a reluctant diner to try a spoonful of goodness.
Keep It Tasty
For a boost of more flavor, add a handful of grated cheese when serving the soup. Any hard cheese will get along happily with lentils. Ask your little guy to sprinkle on the cheese for you. Toddlers are much more likely to want to eat the results of their "own" home cooking. If your little chef loves plain yogurt, let him swirl a little over the soup instead of the cheese.
Keep It Sweet
If your toddler has a sweet tooth, warm, bland lentils are the perfect companion for some sweet additions. Peel and dice a small sweet potato and add it to your soup around 20 minutes before the soup is ready. Or, try tossing a peeled, cored and chopped apple into the soup pan instead. Let the chunks of apple simmer until they melt and blend in with the lentils.
Serve It Smart
Let your toddler's soup cool down before serving. Lentils hold the heat and a burned lip or tongue will be a definite turn-off! Sit and eat a bowl of soup alongside your toddler. Preschoolers love to copy adults, so if they see the dish has your approval, they're more likely to love it, too.