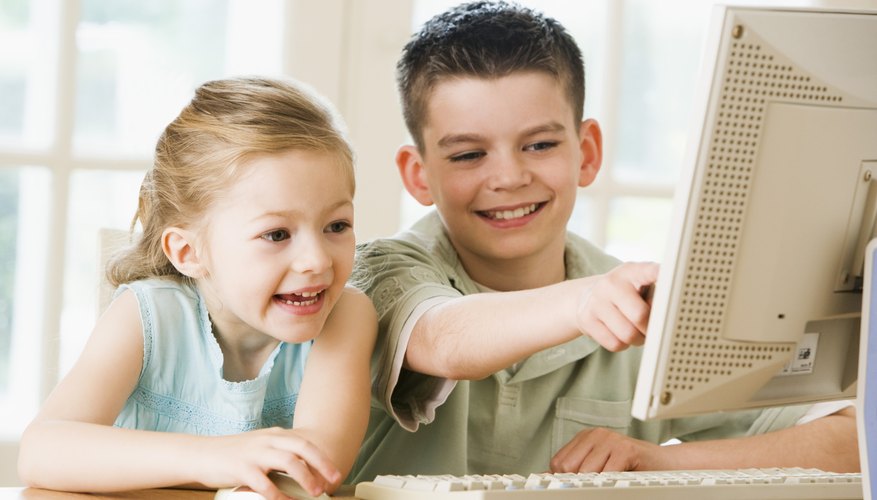 Fun -- and educational? What more could a mom want for her preschooler? Puzzles make appropriate activities for preschoolers because they not only engage children of this age, but also promote and reinforce a wide range of skills and abilities. Depending on the type of puzzle activity you choose, your preschooler will develop and build fine-motor skills, cognitive skills and hand-eye coordination. As an added bonus, puzzle activities help keep your preschooler out of your jewelry box or makeup case by giving her alternative, age-appropriate items to play with instead.
Shape Sorters
Shape sorters are puzzles that require young children to fit shaped-blocks into matching holes. Although this toy is recommended for children ages 2 and up, you can make it developmentally-appropriate for your preschooler by modifying the activity. Instead of simply sitting your child down in front of the toy and setting her to work placing blocks into the matching holes, assign points to each shape with a washable, non-toxic marker. Play with your child, asking her to choose the lowest-numbered block, then the highest-numbered block, then the block with the number 6 on it, and so on. Not only will this enable your child to practice number recognition and higher-order thinking skills, but it will also help to reinforce her fine-motor and hand-eye coordination skills.
Farm Animal Puzzles
Preschoolers love animals. And as any parent of children 4 and up know, preschoolers love to make animal sounds, too. Structure this preschool-friendly form of entertainment with a puzzle activity. Place a wooden farm animal puzzle board in front of your child, and ask him to fit the shapes into the appropriate cut-out on the puzzle board in particular order. Make the sound of the animal piece you want him to place next -- or let him choose on his own -- asking him to make that particular animal sound as he places the piece into position on the puzzle board. Soon, you'll be hearing a roomful of Moo, Baa and Neigh!
Jumbo Carpet Puzzles
Jumbo carpet puzzles make an entertaining social activity for your preschooler. Invite one of your child's friends over for a play date. Grab a cuppa and take a few minutes' break from chores! Get other family members involved. Putting together over-sized puzzle pieces on the living room floor will reinforce your child's gross motor skills while also encouraging social skills, such as cooperation and sharing.
Layer Puzzles
Layered puzzles are a fantastic way for preschoolers to sort pieces and put them together while also teaching children vocabulary, recognition and other learning skills. Layered puzzles are 3-D puzzles that require kids to piece things together vertically as well as horizontally. Body layer puzzles, for example, require children to layer bone, muscle, organ skin and clothing pieces atop one another. While engaging in this activity with your child, teach your preschooler the names of different body parts as you show them where they belong. Refer to your child's own body -- pointing to his chest, leg, head and so on -- when identifying and placing puzzle pieces onto the board.