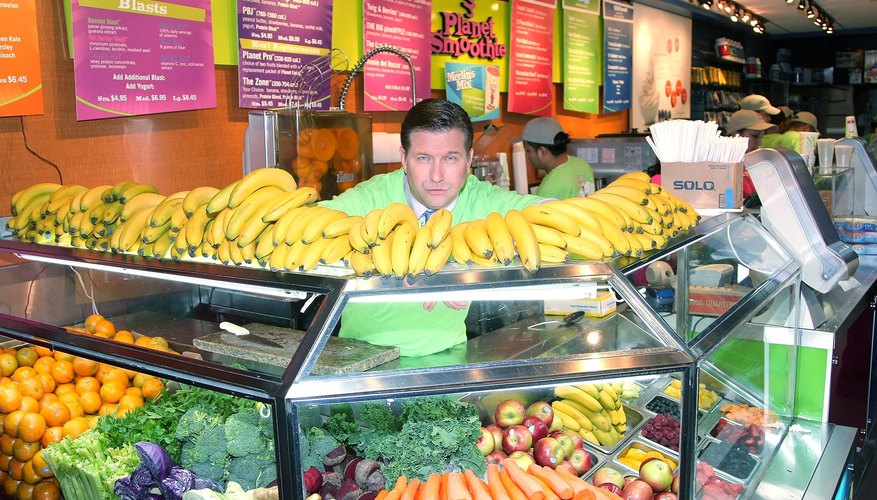 Toddlers can go through periods of picky eating, but protein smoothies can combat any picky eater. By using fresh fruit and low-fat dairy, parents can mix high protein smoothies that can substitute for snacks or a meal. Protein is important for muscle building and sustained energy. These quick, easy recipes are full of protein, and other vitamins and antioxidants important to any growing toddler. Smoothies are versatile, and offer an opportunity for the toddler to join in making them also.
Berry Smoothie
A berry smoothie is not only a good source of protein, but also a great way to get more antioxidants into a toddler. This recipe, published by Kids Health, calls for 1/2 cup raspberries, 1/2 cup strawberries, 1 cup low-fat vanilla yogurt, and 1/3 cup skim milk to be added to a blender. Blend until the mixture is smooth, pour and serve. Each 3/4 cup serving boasts 8 grams of protein. This smoothie is nutritious, delicious, and the bright colors make it attractive too.
Tropical Fruit-Yogurt Smoothie
A smoothie can sometimes be a meal for a toddler who is teething and acting disinterested in eating food. This Tropical Fruit-Yogurt Smoothie recipe, published on the web site Eat Right, has all the essential ingredients for a meal-replacement smoothie. Just add 6 ounces passion fruit, guava, or other fruit-flavored fat-free yogurt, 1 medium chopped mango, 1 small banana, 1/3 cup uncooked, rolled oats, 2 teaspoons grated fresh ginger, 1/2 cup pineapple or orange juice, and 1/2 cup fat-free milk to a blender. Blend until smooth, and this treat is ready to enjoy. If the consistency is too thick, additional milk or juice can be added. This smoothie contains 8 grams of protein per serving, and also has a wealth of vitamin C.
Avocado Melon Smoothie
The Food and Drug Administration's site Choose My Plate has many recipes. This avocado melon smoothie offers 13 grams of protein per serving. Avocados are considered a super food and are very high in protein. This recipes calls for 1 large, ripe avocado, 1 cup honeydew melon chunks, 1 1/2 teaspoons lime juice, 1 cup skim milk, 1 cup fat-free yogurt, 1/2 cup 100 percent apple juice or white grape juice, and 1 tablespoon honey, or pure maple syrup if the toddler is not yet ready for honey. Combine all ingredients in a blender and blend until completely smooth, and it is ready to enjoy.
Fruit Smoothie
The United States Department of Agriculture publishes recipes on its resource site SNAP-Ed Connection. They offer smoothie options, including this high protein fruit smoothie. The USDA's recipe calls for 1 large banana, 1 cup fresh peaches or strawberries, 8 ounces low-fat vanilla yogurt, and 1/2 cup fruit juice. They recommend blending all the ingredients together until smooth. Each serving yields 7 grams of protein, and each recipe yields 2 servings.