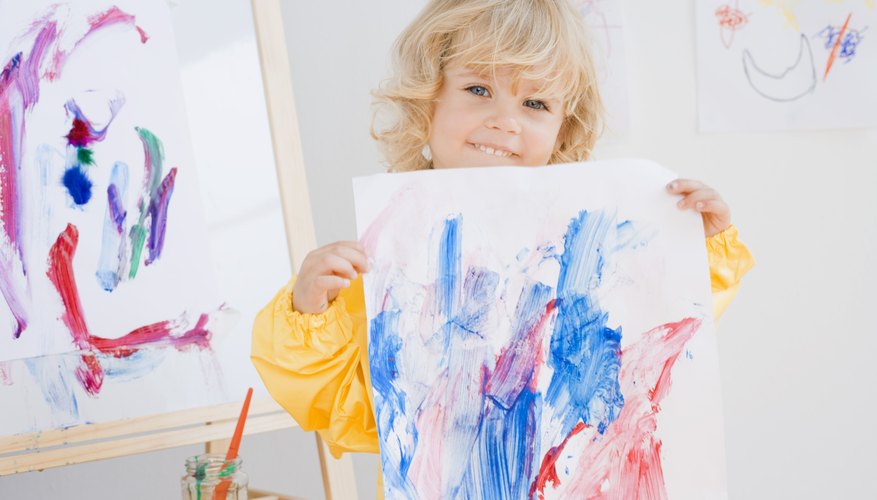 While your preschooler tagging a mural on the wall or putting together a nutty outfit for herself may drive you crazy at times, these behaviors reflect her sense of creativity and provide an outlet for self expression. Thankfully, you don't have to get used to crayon portraits and send your little one off to school wearing a striped dress with plaid tights and flip flops just to foster her creativity. Providing child-driven activities at home will get your preschooler's creative juices flowing.
Art
Gluing together pre-cut shapes to form bumblebees and monster faces may build on fine motor skills and produce a fun little craft, but these activities don't allow preschool children to make their own creations. Open-ended art activities always start with a blank canvas and involve a variety of media. These projects don't always result in concrete pictures, but they will portray the emotions and imagination of your budding artist.
Building
Preschool children learn through play. Though building with blocks isn't rocket science, children not only gain math, science and language skills while making block structures, but also enhance their creativity. Next time your little one wants build a block castle, get down on the floor so the two of you can create together. As she puts blocks together, ask questions about what the structures represent. With active imaginations, you might end up in castles, forts, space ships or even a time machine.
Role Playing
By role playing, preschoolers take on real life roles, helping them make sense of the world. Though her impression of you expressing road rage at the driver who refuses to go faster than a snail's pace isn't particularly flattering, your little mimic gains social development through this creative outlet. To foster dramatic play, you can provide costumes and puppets that encourage her to imagine fun scenarios to act out and characters to play.
Story Telling
The monster in the closet does more than help your preschooler scam her way into your bed each night, it also represents her budding imagination and makes for a great story starter. Ask your little one what the monster looks like, where he came from, what foods he eats and what games he plays to inspire a fun and creative story from an otherwise fearful experience. By the end of the story, your preschooler will have expressed her creativity and will most likely want to grab an ice cream with her new monster friend rather than run from him.