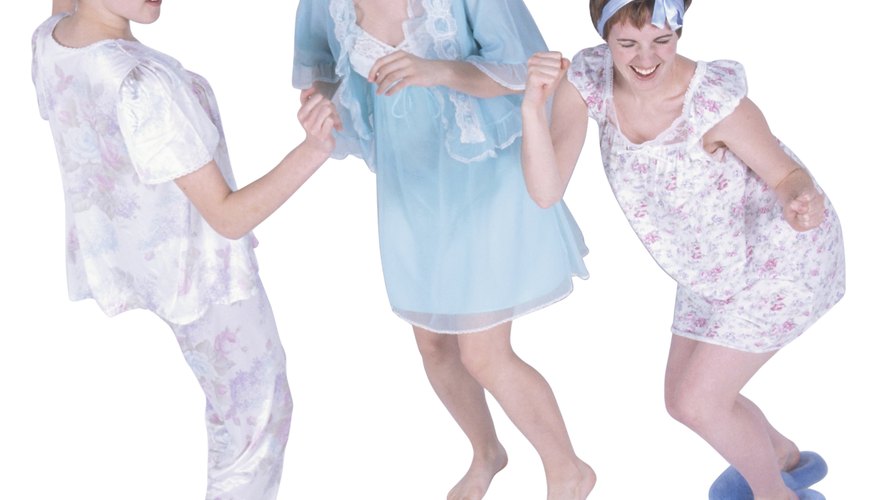 Creating a themed party for teens can be an exciting adventure. Before you do anything, talk to your teenager to find out what theme would be most appealing to her. Once you have an idea of what your teen wants, you will be able to narrow it further. From vampires to mud masks, teen party themes abound.
Celebrate the Milestone
Whether your party is to celebrate the initial entrance into the teen years, the sweet 16 birthday or the moment when your teen turns 18, find a theme to go along with those important milestones. For a 13th birthday party, include your teen in the planning. Some ideas include laser tag, mini golf, paintball, water balloon fights, a pool party or a water park. The sweet 16 party can be a number of themes, including a dance party complete with a deejay, pop music and a dance floor. With your 18-year-old now able to hit the dance and comedy clubs, perhaps a night out on the town in a rented limo would be an exciting party.
Celebrate the Past
Young people often enjoy dressing up in clothing from a decade. Popular decades for nostalgia are the 1970s or 1980s. Find out from your teen which would be the most fun. The '80s party would bring in the bright colors, big hair, leggings and glam rockers. If the disco vibe is more appealing, then the '70s would be exciting with the strobe lights, disco balls, dance floors, bell-bottoms and leisure suits.
Bring on the Pop Culture
You could make a pop culture icon become the theme for the party. Some popular ideas are Harry Potter, "Glee," One Direction and "Twilight." Your teen might not be into any of those, so choose something that will be cool to the particular crowd at your party. Whatever is your teen's favorite movie, pop star or TV show would be a safe choice to create a theme. The more iconic, the more likely you will find party supplies and game ideas for your theme.
Just for Girls
Your daughter might just want a night with the girls. You can create a spa-like atmosphere at home with beauty treatments, makeovers and hairstyle creations, or take the party to an actual spa for a thrilling experience for everyone. Your young lady might be into crafts and pajamas parties. If so, a slumber party theme might be a hit. You can plan an interesting craft such as scrapbooking, memory boxes, friendship bracelets or creative baking.