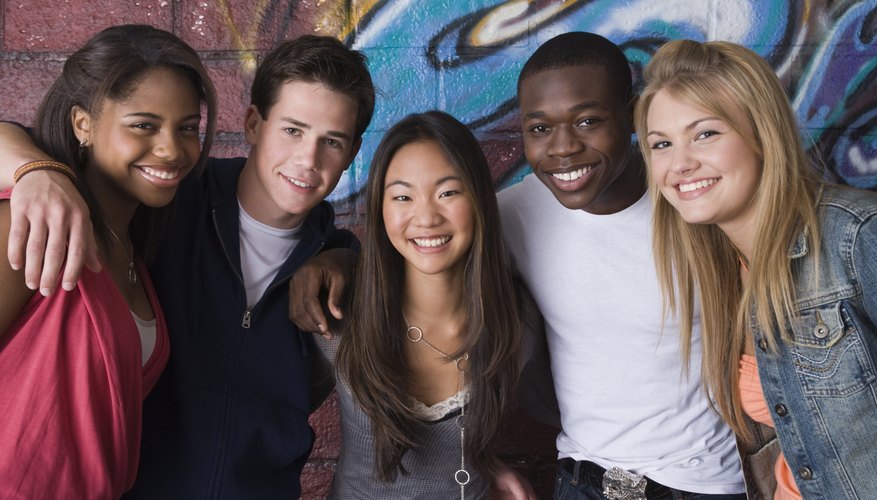 Adolescents striving for autonomy can be difficult to sway when it comes to positive decision making. However, poor choices can alter how well teenagers perform in school. Decisions regarding friendships, sleep, eating habits and substance use can all have dramatic impacts on academic achievement.
Friend Choices
Positive, mutually beneficial friendships can alter academic adjustment in the early teenage years, according to 2004 research published in the Journal of Educational Psychology. Researchers followed 242 students from sixth to eighth, grade looking for links between pro-social behaviors, academic achievement and emotional distress. They found that adolescents without reciprocal friendships -- where each person gets a similar amount of support -- had lower levels of academic achievement and pro-social behavior and had higher rates of emotional disturbance. Teenagers who choose to associate with friends who provide little positive support may be risking academic success.
Sleep
It can be difficult to convince a teenager that getting a good night's sleep is more important than watching one more movie or shooting hoops with friends. However, poor choices regarding sleep can alter school achievement, according to Italian research published in Sleep Medicine Reviews in 2006. This study found that sub-par sleeping patterns were associated with decreased ability to learn, decreased memory capacity and lower levels of academic performance. Adolescents striving for the honor roll should make sure to get good quality sleep for at least eight hours nightly in order to live up to their academic potential.
Drug Use and Deteriorating Grades
Researchers from Colorado State University note that drug use and poor academic achievement enjoy a reciprocal relationship. Published in the Journal of School Health in 2010, this study reported that as drug use increased, grades deteriorated. Likewise, as academics became strained, drug use increased in response. Authors conclude by noting that because of the symbiotic relationship between the two, academic engagement may prove to be preventative for substance abuse. Teenagers who choose to use drugs or other substances may require intervention in order to salvage academics, along with addressing other physical and mental health issues.
Nutritional Choices
Poor nutritional choices can affect the way adolescents perform in school, according to 2008 research out of Dalhousie University in Canada. This study, published in the Journal of School Health, found that in a sample of 5,200 students, those with better diets enjoyed improved academic performance. These differences remained even after adjusting for socioeconomic issues and gender, suggesting that dietary quality can greatly impact scholastic endeavors. Adolescents who make poor food choices may not be giving themselves every advantage in the academic arena.