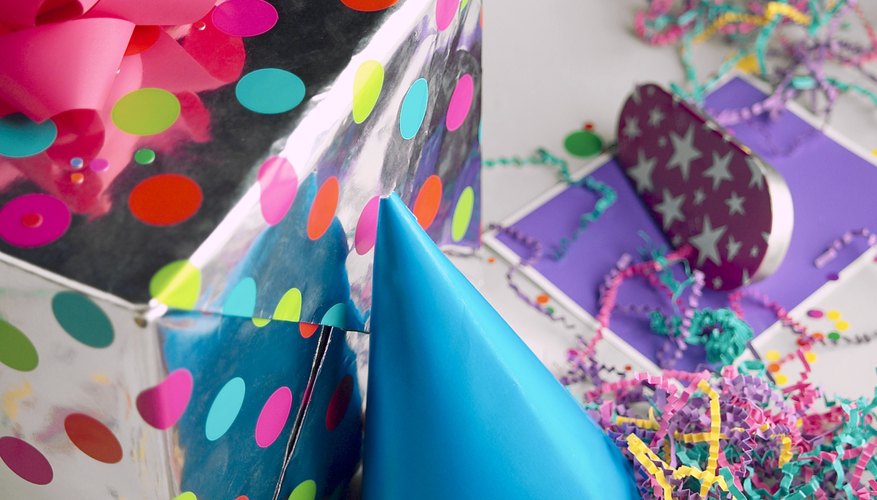 Situated on the banks of the Arkansas River, Tulsa, Oklahoma is known for its art deco buildings, its Oklahoma-style barbecue and huge summer festivals that bring in visitors from around the world. The second largest city in Oklahoma, many of Tulsa's attractions are family-friendly, which always gives residents and visitors with kids something to do, including venues for birthday parties. Tulsa has birthday party venues for kids of all ages, including many that are ideal for toddler-aged kids.
Major Tulsa Attractions
Celebrate your little one's birthday at the Tulsa Children's Museum in downtown Tulsa. This hands-on, interactive museum offers a dedicated toddler area where they can explore miniature tunnels, sensory toys and activity stations. The museum offers party packages that include admission, a private party room and a T-shirt for the birthday child. For an animal-loving tot, celebrate her birthday at the Tulsa Zoo, home to animals from every continent, set on 84 acres of land. It also includes a children's zoo where little ones can pet goats and watch prairie dogs interact. The zoo offers birthday party packages that include zoo admission, a party space, train and carousel rides and a live animal presentation. You could also celebrate at the Oklahoma Aquarium, just 13 miles outside of downtown Tulsa. The aquarium has a stingray touch tank and a walk-through shark tunnel. Birthday party packages include admission and a party room, including the choice of their shark viewing room.
Jump and Play Venues
Take your energetic toddler to Bounce U for his birthday, a floor-to-ceiling inflatable gym full of bounce houses, bouncy slides and inflatable obstacle courses. Bounce U specializes in customizable children's birthday parties for kids of all ages. Packages can include party decor, set up, snacks, birthday cake, games in the party room, goodie bags and unlimited bounce time. Bounce U also has a separate area just for preschool-and-under kids, with smaller inflatables perfect for toddler-sized kids. Another high-energy spot to check out is the Little Gym in Tulsa. This national chain of kiddie gyms offers a slew of movement, gymnastics and sports play, including active parent-child classes for the toddler set. Birthday parties at the Little Gym include use of the entire gym, guided gymnastic and gym games, and party set-up and decor.
Splash Party Locations
If your toddler's birthday falls during the hot Tulsa summers, cool off with a party at the Big Splash Waterpark, a local water park with water slides, rides and water play features. Splash includes a separate shallow pool for young children, with pint-sized fountains and other water features. It offers several birthday party packages, all of which include park admission and free inner tubes. Additional package options include meal tickets for each guest and a customized birthday cake. For more low-key water fun, you can reserve a picnic table at the 41st Street Plaza, a recreational park in Tulsa on the Arkansas Riverfront. The park includes a free interactive water play area with fountains that spout water out randomly. It also has a large playground. Call to reserve a table at the Plaza well in advance where you can bring your own snacks, cakes and decor for your little one.
Miscellaneous Options
For a little girl that loves to dress up, celebrate her birthday at My Little Dollhouse, a play studio where girls can dress up in princess dresses, get glitzy hair and nails done, play in miniature castles or host tea parties. My Little Dollhouse offers princess parties that include decorating tiaras and wands, princess cupcakes and a visit from a fairytale princess. If your tot loves music and dancing, the Midtown School of Performing Arts offers a music-themed party specifically for children ages 5 and under, where they get to play instruments and music-themed games. Packages include party decor, balloons and party favors. For water play when it's cold outside, head to the Wydnham Tulsa, where you can throw a party at Leapin' Louie's, the hotel's small indoor water park. Aside from unlimited water play, packages include a party room, pizza, beverages and a gift for the birthday child.