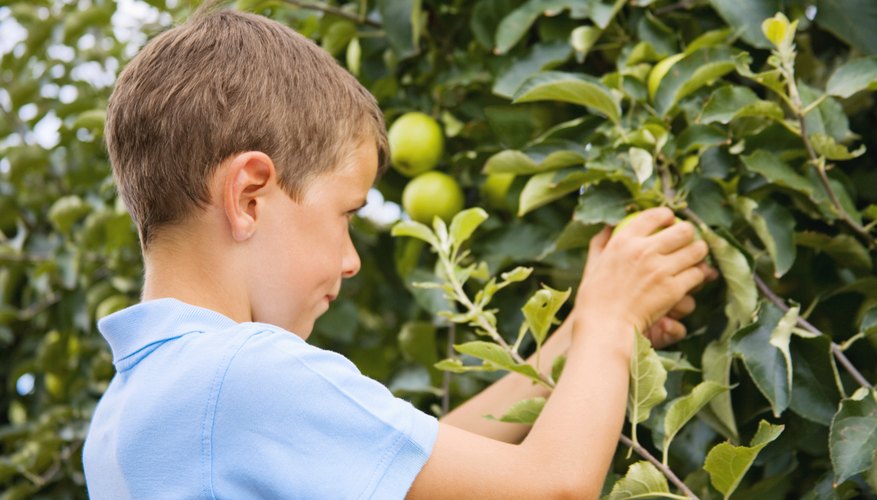 Nothing says fall like a visit to an orchard. There's something about the crispness in the air and the lure of cinnamon-spiced cider that sends families in search of apples. For some, it's simply a fun weekend activity -- for others, an annual tradition not to be missed. Remember to bring a camera since there will be many memories made and countless photo ops during your visit.
Sunset Orchard
Wile away the afternoon at Sunset Orchard in North Scituate. Even if the kids aren't enthralled by picking apples there is still much fun to be had. Enjoy a free wagon ride, and for a small fee, the little ones can ride in a tractor pulled train of barrel cars. Let the kids visit the bakery to pick out goodies baked fresh on the premises, then for a nominal charge turn them loose in the bounce house if time and weather permits.
Hill Orchards
One of the highlights of an apple-picking trip to Hill Orchards in Johnston is the hayride. Unlike many of today's hayrides, Hill's old-fashioned wagons are pulled through the orchards by horses. The novelty tends to delight young and old passengers, alike. Bring the whole family to pick apples, visit with the horses and drink homemade sweet cider.
Phantom Farms
The Apple Harvest Festival takes place every weekend through fall. Families find their way through a burlap maze, dance or tap their toes to live music and go for hayrides -- in addition to picking apples. Along with the requisite fresh-pressed cider, hot apple crisp from their bakery and caramel apples are among the treats at the festival. Nestled in Cumberland, Phantom Farms is a definite family favorite that's been growing apples for more than 50 years. Enjoy the country store with bakery, and then let the kids blow off steam on the pedal tractors. Phantom Farms grows another fall favorite too -- giant pumpkins.
Jaswell's Farm
Picking apples is only part of the fun of Jaswell's Farm in Smithfield. The experience is made sweeter when you try some of the delicious home-made baked goods available on the premises. Taste buds are tempted by Jaswell's signature candy apples, as well as fresh pizza and other treats. Call before going if you'd like the ever-accommodating staff to hold favorite treats for you. As with most apple farms, Sunday hayrides are available. Jaswell's requests a donation for their local food bank. The farm also holds tours for kids that include a tour of the farm, cider sampling and a coloring book for each child to take home.
Rocky Brook Orchard
If you're in the Newport area take a trip to Rocky Brook Orchard in Middletown. Surrounded by beautiful scenery, enjoy a picnic with the kids on the grounds. Many of the trees have branches that hang low enough for toddlers to tug apples from, and 45 varieties of apples grow in the orchard.