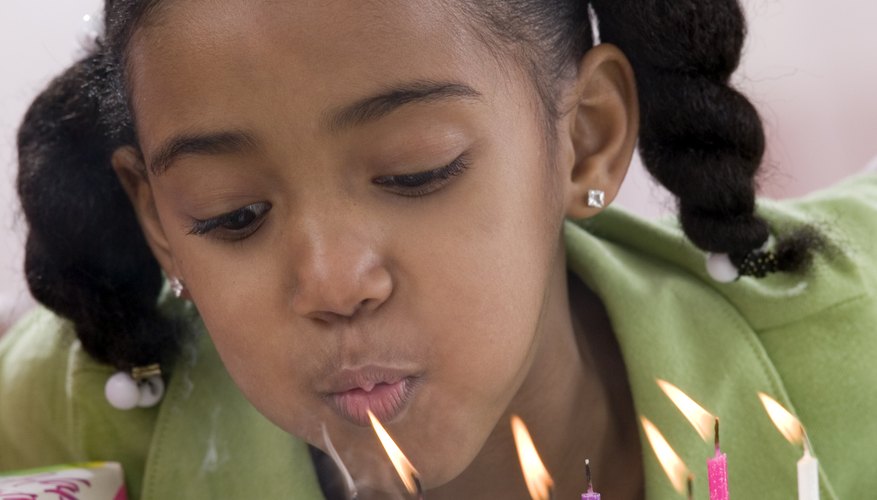 Wilmington is an easy-going beach town on the east coast of North Carolina that attracts both college kids and families. Parents who are looking to do more than spend a day at the beach to celebrate their children's birthdays have many options. From pampering at the spa to educational activities at the museum, kids of all ages and interests can find a place to have a good time on their birthday.
For the Girls
If you have a girl who loves to play dress-up or be treated like a princess, you have birthday options. At the Wilmington School of Ballet, your little girl can enjoy 90 minutes of dress-up play, nail art, face painting, dancing and crafting. Bounce houses are also available. You provide your own refreshments, and the staff provides the rest. At the Ribbet Salon and Shop for Kids, your girl and her friends can enjoy pampering with a manicure, a light application of fruit-pigmented make-up, and a temporary colored hair extension. You can also choose a party that includes manicures and playing the Wii.
Active Parties
For the athletes and kids who prefer to be more active, several options are available for a celebration. At Carolina Gymnastics Academy, kids can enjoy free play in the gym, including swinging on the rings, jumping on the trampolines, and playing in the foam block pits. Party packages include a private room, coaches, and invitations. You provide the refreshments. At Port City Gymnastics, party-goers can enjoy an hour of fun on the gymnastics floor. Packages include balloons, tablecloths and invitations. Deluxe packages also come with refreshments.
Educational Parties
Learning can also be fun. At the Children's Museum of Wilmington, kids can explore the museum's exhibits, including the teddy bear hospital, the toothasaurus dental exhibit and the secret cove under the sea. Party packages also include a themed activity. Themes include princesses, pirates, science and art. Packages also include party supplies, a goody bag for guests, and a T-shirt for the birthday guest of honor. On the Battleship North Carolina, kids can learn about North Carolina naval history while celebrating their birthdays. The birthday child gets a sailor hat and T-shirt and you get access to a private party room for two hours. All guests get admission to the ship.
Play Centers
Play centers give kids the opportunity to do what they do best: have fun. At Fit for Fun Center, children younger than 5 years of age can enjoy art activities and explore development play equipment, such as tunnels, indoor slides, musical instruments and parachutes. Birthday parties include organized play activities, some decorations and a private party space. You provide the refreshments. At Power of Play, kids can play in the indoor jungle gym and on the climbing walls, tire swings, and roller racers. Different party packages are available to meet your needs.