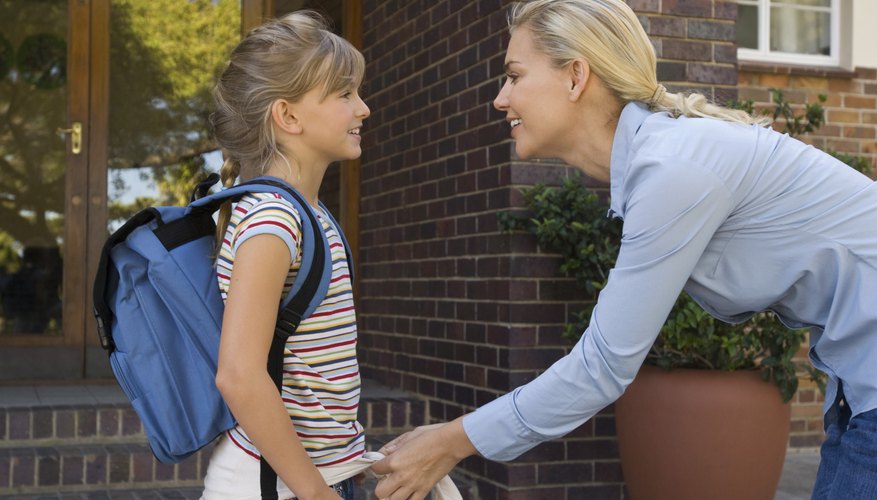 Parents have an important role in helping their kids appreciate their education and fulfill their potential. Children are influenced by their parents' attitudes and beliefs, so they will benefit if their parents have a positive approach towards education and take an active interest in what they are learning at school.
School Involvement
Children benefit if their parents have a positive attitude toward learning and are involved in school life. According to the Michigan Department of Education, when parents are involved in school work, such as supporting school learning through activities such as reading at home, then children will have greater academic success, higher school attendance and higher self-esteem. HealthyChildren.org recommends asking questions about what your child did at school as a good way to support learning and show interest.
Expectations
The level of school success is strongly linked to the expectations parents have on their children to succeed, with children performing better the higher parental expectations are. Having a positive attitude towards these expectations and encouraging your child to succeed will help him to appreciate his education. The San Diego County Office of Education says these expectations should be high, but achievable and age-related. Sharing his successes with friends and family members will also boost his self-esteem and help him to develop a positive attitude towards learning and school.
Attitude to Homework
The Harvard Family Research Project says that the more time children spend on homework the greater their school success, so when parents have a positive attitude towards homework and check homework is being done then their children will benefit. Children should have a quiet area to work, and doing homework should be part of the daily routine. Parents can also show an interest by offering encouragement, help and guidance when necessary.
Home Life
Parents should encourage regular reading at home. A home where parents read regularly will benefit children, as children are more likely to take an interest in books. HealthyChildren.org also says parents can support their children's education if they let children write or draw without any particular educational goal in mind apart from being creative and expressing themselves. Pens and coloring materials should be in an accessible place, so kids can write or draw whenever they feel inspired.