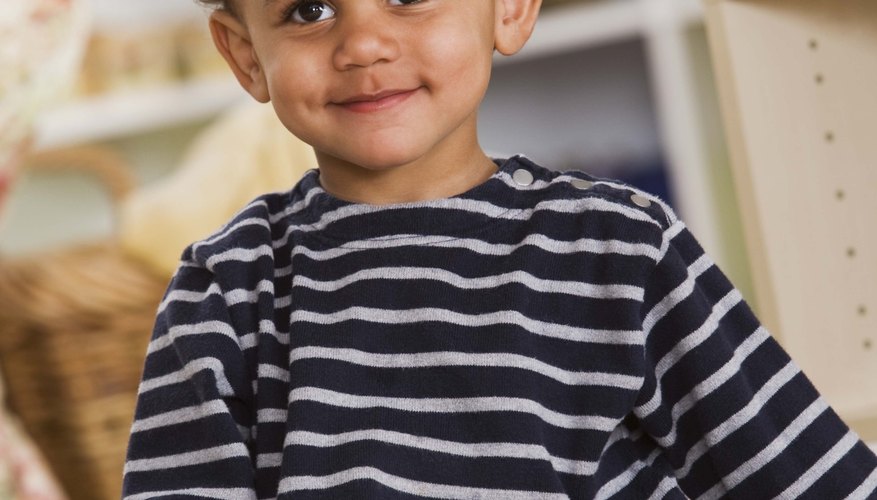 Toys and clothes strewn around your preschooler's room create an obstacle course each time you dare enter. The average 3-year-old pulls out her entire toy collection in mere minutes, but most preschoolers drag their feet when it comes time to put it all away. If your preschooler's bedroom looks like a hurricane swept through the area, simple organization tricks make it easier to pick up and keep things straight.
Give Everything a Spot
A specific spot for each type of toy makes it easier for your little tyke to find what he wants and put things back away. Labels help your preschooler even further when it comes to keeping his stuff organized. Print labels with both a picture and a word to describe the contents of the container. The images allow your child to figure out what belongs in each spot even if he can't read. The word printed next to the image gives him a chance to investigate print in his environment to improve his knowledge of letters and words. Attach the labels to containers or on shelves where each item goes.
Install Storage Units
Storage units, such as shelves and drawers, help divide up your 3-year-old's room into different storage areas. A bookshelf creates a reading zone. A desk serves as a work space for crafts while holding supplies for those activities. A rack of individual tubs allows for easy sorting of toys. Storage units come in a variety of sizes and styles so you can customize the organization to fit the available space in your child's room. You can turn an existing piece of furniture into a custom storage unit with a few modifications. For example, paint an old bookshelf and buy canvas or plastic tubs that fit onto the shelves for a custom toy storage unit.
Maximize Unused Space
Your preschooler's room probably has at least some unused space you can convert into storage. Using the walls takes advantage of the vertical space. A series of shelves or wooden crates attached to the wall can hold toys, books and other items. The inside of your preschooler's closet door works as an organization hub. Add hooks to the door to hold clothing and accessories. Tubs placed under the bed use that space to store old clothes, toys and other items you want out of sight. In the closet, hanging canvas shelves make use of the vertical space that would otherwise go unused. A hamper in the bottom of the closet hides her dirty clothes without taking up space in her room.
Make It Preschool Sized
Organizational systems at your preschooler's height means he's more likely to use them to keep his room in order. A row of hooks around the room at his level gives him a place to hang bags of toys or dress-up clothes. A closet rod installed a few feet from the ground is high enough to keep his clothes off the floor but low enough for him to reach his own clothes. Small adjustments to hanging heights and the size of storage units makes the space preschool-friendly to keep your 3-year-old organized.