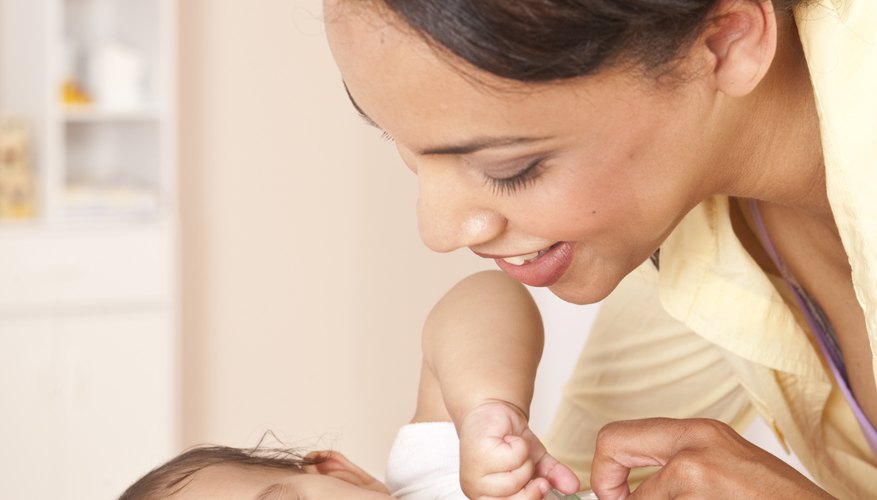 In the year 2012 alone 70.5 percent of mothers with children under the age of 18 were either working or actively looking for employment, according to the U.S. Bureau of Labor Statistics. Of those women, 57 percent of working moms had infants under 1 year. If you're one of these working -- or soon-to-be working -- mothers, going back to your job after having a baby is a challenging situation that can bring up strong emotions. Although it's perfectly normal to feel guilty when going back to work, dealing with it in a positive manner can help to ease the sting.
Allow yourself to understand that placing your child in someone else's care won't damage her or your relationship with her. Consider the statistic from the pediatric pros at the KidsHealth website; roughly 70 percent of kids in the U.S. are in some form of non-parental care situation. Choose a childcare provider that you feel completely comfortable with. List the criteria that are necessary for your own comfort -- such as the provider's own educational and professional experience, beliefs on and use of discipline, the way in which the provider will handle any separation anxiety and religious values. Decide on what works best for your family's needs: daycare, a nanny, a babysitter or family-member care.
Visit your baby's new childcare center, if you are choosing this as an option. Talk to the director, teachers or other staff members. Ascertain what the staff's qualifications are, and assess your own feelings about the provider. Watch how the teachers or sitter interacts with your baby. Viewing the provider's kind and caring nature -- or your infant's happiness -- can provide you with a sense of comfort to take with you on your work day.
Observe the child care provider at home with your infant, if you are going the nanny or family babysitter route. Spend the afternoon -- before you go back to work -- with the nanny or sitter, letting her take charge of the childcare duties. Look for how she interacts with your baby, how she handles sticky situations -- such as your colicky kid -- and how she provides a caring and nurturing environment for your child.
Enlist help from others. Keep the, "It takes a village to raise a child" adage in mind, asking for help from grandparents or other family members. Knowing that your own mother is picking up your baby from daycare can put your mind at ease and let you focus on finishing your work day.
Look at the advantages to going back to work. Avoid toiling away at your job, missing your precious little angel or calling the daycare every five minutes to check up on her by reminding yourself that she's the reason that you are working. Think about your paycheck or the self-satisfaction that you get from a job well done.
Tell yourself that you are a role model -- of a successful working woman -- that your child can eventually look up to.
Carve out non-work time to spend with your child. Block out the after-work period or weekends to focus solely on your baby. Read books with your baby, feed her dinner or get down on the ground and crawl around with your little one.
Tip
Talk to other working moms. Join a mother's support group or just chat with your mommy-co-workers about the guilt that you feel. Other moms can provide you with a sense of comfort in knowing that you aren't alone.
Accept that you may always feel some tug of guilt. Although you will eventually feel more comfortable with your work situation, you may still have those little pangs once in awhile.
Warning
Don't over-do it or hover when it comes to checking in with your child's care provider. This may make the provider feel like you don't trust her.
Realize that your guilt won't go away overnight, and that it will take some time.
Avoid emotional outbursts at work. While you might feel like crying in the middle of your sales meeting, keep your mommy-guilt to yourself until you are in private.