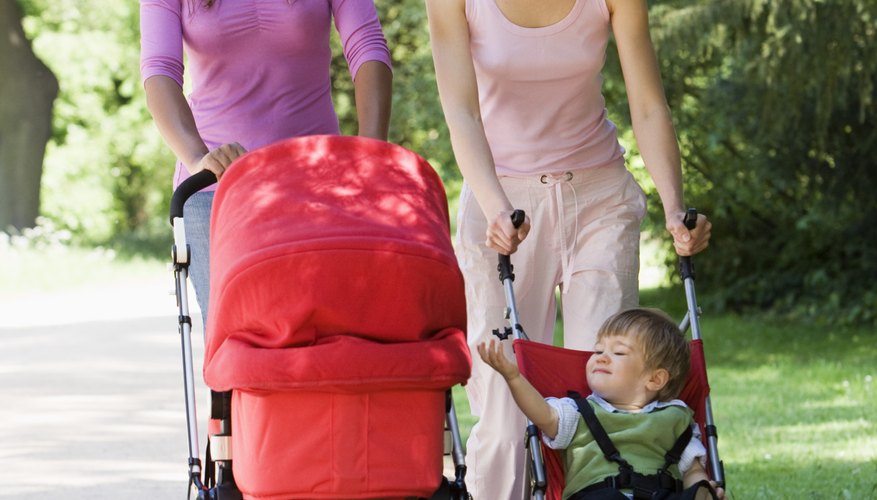 Welcoming a new addition to your family comes with some stress and apprehension, and the bevy of baby products on the market probably won't help calm your nerves. Walking into a big-box baby store can leave you overwhelmed and confused, with so many products to choose from. One essential product is a stroller, which simplifies your life during those stressful newborn months. Once you understand the benefits of a stroller, it will become a must-buy on your shopping list.
Easy Transportation
Strollers make transporting your baby around town a far simpler task. You'll quickly learn that carrying your baby in his infant car seat can be challenging; even an 8-pound newborn can suddenly become heavy when you're carrying him in an infant car seat. A stroller allows you to push your baby around, whether you're doing some window shopping, walking to a neighbor's house or navigating your way through a hectic airport.
Stroll and Sleep
Stroller frames, which are designed to allow you to snap an infant car seat into them, and travel systems, which offer the same feature, allow you to transfer your newborn from the car to the outside world with ease. This feature can be particularly beneficial when your little one falls asleep in the car; you can move her to the stroller without waking her. In fact, the motion of the stroller itself might encourage a nap or ease the crying of a colicky baby, according to the American Academy of Pediatrics.
Exercise and Fresh Air
After you've had a baby, you probably want to get back into shape and ease into a more active lifestyle. A stroller helps you slowly regain your strength after pregnancy and childbirth. While the AAP recommends you do not use a jogging stroller until the baby is 5 or 6 months old, you can use a stroller frame or travel system that accommodates the infant car seat right away. Even if you just take a daily walk around the block, it gets your heart rate going and gives you and your little one some fresh air. You can move your walks indoors to a track or shopping mall during the winter months to continue to enjoy the exercise benefits of a stroller.
Extra Storage
New mothers quickly learn how to do nearly everything with a baby in their arms. Thanks to your stroller, though, your hands can be free. The stroller can be your storage companion when you're out with your little one. In addition to a spot for your bundle of joy, today's strollers feature a range of compartments and storage solutions. Rather than carrying your baby, diaper bag, bottles and shopping bag, you can have a spot that holds everything, thanks to baskets and cup holders, making all of those baby necessities easier to transport around town.