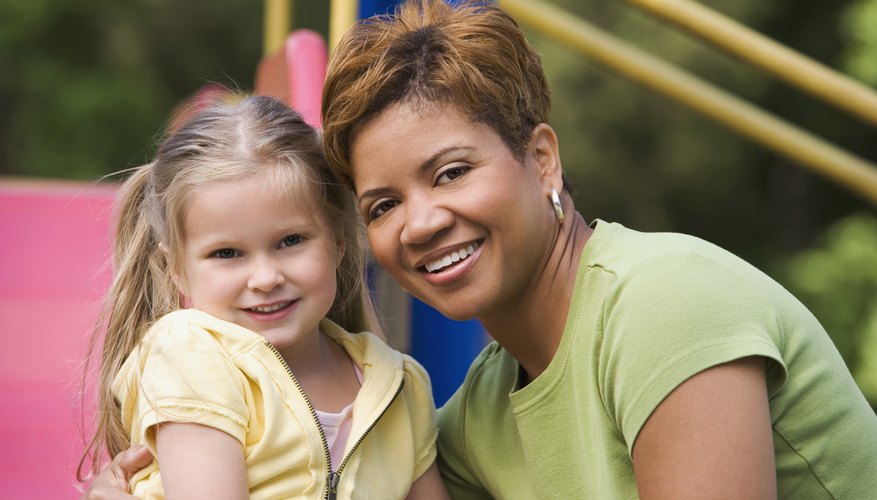 Bringing a nanny into your house is a serious decision. You are choosing the person to trust with your most precious treasure: your children. Using a checklist helps to make the hiring process as stress-free as possible. In addition, on the first day of work, you may also use a checklist to ensure that the nanny knows your expectations and has easy access to necessary information.
Interviewing the Nanny
You will want to ask the nanny you're interviewing about her training and if she has any professional credentials, or if she belongs to a nanny or childcare organization. Discuss how much experience she has and with what ages of children. Ask about her strategies for child discipline and how she handles tantrums, and what she might do if a parent is late. Ask about any negative experiences or negative feedback. Ask what some of her best and worst experiences were and how she handled these experiences. Ask if an employer ever terminated her against her will, and ask her to state the reason for the termination. Ask for references and be sure to call the references. Investigate if she has a criminal record.
Writing the Contract
Once you have chosen the perfect person for your family, you need to discuss the nanny contract. Obviously, the first item to agree upon must be pay for the hours of work. Within that discussion, talk about such benefits as paid vacation, health insurance and how to handle overtime responsibilities. Discuss whether you expect the nanny to drive children in her car, or use a family car. If you expect her to drive her car, you need to discuss what type of allowance you will make for gas and mileage. Discuss what, if any, household chores you expect her to perform, such as laundry, cooking, dishes or general cleaning. Agree on how you will handle holidays and what days she will be completely free.
Dotting the Is and Crossing the Ts
Once you and the nanny have agreed to the job, there is another list of things that you will need to make the relationship work. You may want to ask for evidence that she has infant and child CPR training. If she lacks this training, you may ask that she seek training before working with your child. Every family must have the technology discussion before work commences. You may expect the nanny to use her personal cell phone to keep in touch with you throughout the day. However, you may wish to limit her personal phone calls and texts during her work hours. You will probably also wish to limit her use of the home computer, laptop or tablet during working hours. Set up acceptable times and places, or ask that she refrain from using these items while working, unless she is using them only for business – such as communicating with you, a preschool teacher or another adult related to her job.
The Day to Day
Make a clear checklist for the nanny to follow as she becomes accustomed to your family. It's a good idea to keep this list in the front of a notebook that both you and your nanny can use. Encourage your nanny to write down questions that come up throughout the day. This is the beginning of a stable communication notebook for you both to share. Start with her first duties of the day. Include the child's favorite breakfast. If your child is still nursing, list where she can find bagged breast milk or formula as well as extra bottles. Let her know where to find diapers, wipes and lotion or creams as well as where extra supplies are stored. Share where to find the child's play clothes, even if you lay out clothes for the day. If your child goes to preschool, write down the drop off and pick up procedure in detail. For those staying home, list nap times and let her know the child's favorite security object and where it tends to get lost. Tell her where to find extra pacifiers if those are used. List lunch choices and whether your child is a light or heavy eater at midday. List whatever duties you expect done while the child naps. Tell her where she will find cleaners, vacuum, broom and other implements. Finally, if you have a pet, tell your nanny where to find food, bowls, toys and leashes. Give her the emergency number for your vet and any special commands your pet has learned.
Emergency Contact
Finally, make sure that you have an emergency number checklist. Make two copies: one for the nanny to carry with her and one you can display on the refrigerator. The list should include numbers for both parents, including cell phones and office numbers and the child's doctor or doctors. The list should also include poison control and the number for your local hospital. You may want to include extended family if they live nearby and you are close or a neighbor you trust. Add health insurance information that the nanny may need if the child requires care. Finally, write the address for your home on the list. A new nanny may not remember the address in an emergency.