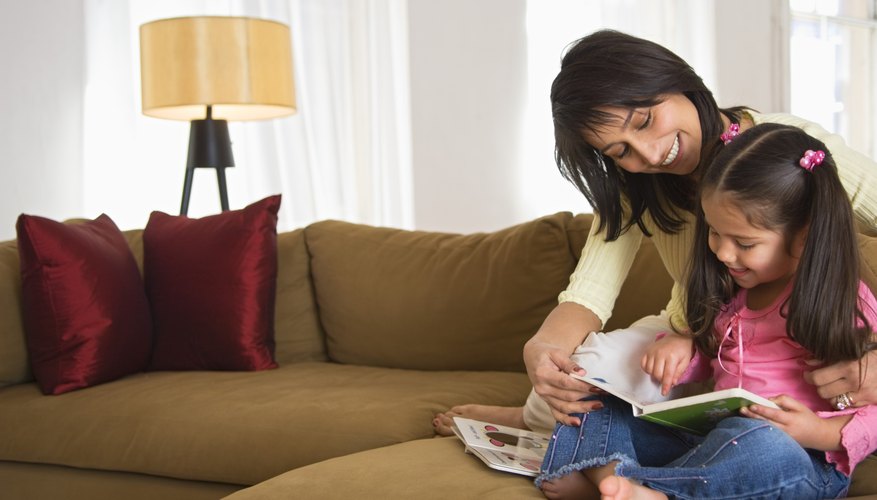 Homemade crafts never fail to warm a mother's heart. Allowing young children to create a Mother's Day gift helps them understand the sentiment behind the day and take pride in making a personal gift for mom. The first American Mother's Day took place in 1908, and May 11 received formal recognition as an official American holiday in 1914. While elementary schools often help students create gifts for Mother's Day, children in the 3- to 5-year old range may enjoy making gifts for their mothers with the help of a dad or other caregiver.
Breakfast in Bed Accessories
Delivering a tray filled with breakfast goodies on a place-mat handcrafted by a child tells mom how much she is appreciated and sends love with colorful decorations made by her young children. Kids between the ages of 3- and 5 years have the basic skills to cut large shapes using round-tipped, children's safety scissors. Ask your child to put colorful construction paper scraps and small photos cut from magazines that mom might like on a piece of wax paper the size of the breakfast tray. Place another sheet of wax paper on top and using a warm iron fuse the two together. Put the iron up when finished to cool out of reach of curious hands. Whip up a breakfast that the 3- 4- or 5-year-old can can safely deliver to mom, while you deliver her hot coffee or tea.
Heart Necklace
Most moms like jewelry for Mother's Day, and young kids can make her a special necklace of paper hearts and yarn. Create a small heart template for each child to trace to create the necklace, but cut out a few extras for kids who tire of the scissor task early. Each necklace should have at least three hearts, but it can feature as many as a dozen. Put out jumbo-size crayons designed for tiny hands or nontoxic, washable tempera paints. Ask the kids to be creative and decorate the white hearts. Allow the paint to dry and string the hearts on the yarn by punching a small hole at the top. Use a small piece of string to attach each to the yarn necklace.
Picture Notes
A picture note allows young children with minimal language skills to express their love for mother. Cut heavy construction paper hearts or circle shapes as the background material for the notes, and allow the children to cut out, using their children's safety scissors, images from magazines of things they think mom would like on her special day. Look for magazines with colorful images of a variety of items. Ask the children to find pictures of things they think mom would like. Then they can cut and paste the small images on the cardboard, draw a heart and make a personal mark or sign a name. Punch a hole in the top of each note so mom can feature it on the refrigerator or hang the notes on a bulletin board.
Flower Display
Paper flowers arranged in a vase can make a cheerful bouquet for mom's office desk or breakfast setting. Young children may need some help drawing the flowers and leaves. Use Popsicle or craft sticks for the stems. Depending on fine motor skill development, some children will appreciate a template to trace or want your help in drawing these. The leaves can be drawn on green construction paper, and the flowers can be drawn and then colored on white paper. Have children color the sticks green. Let the children cut out the flowers and leaves, using their safety scissors. Using nontoxic school glue or paste, show the children how to adhere the flowers and leaves to the sticks. Show the children how to arrange their flowers in the vase. Ensure the vase has a wide enough base that it won't tip and break while the young children add their flowers.