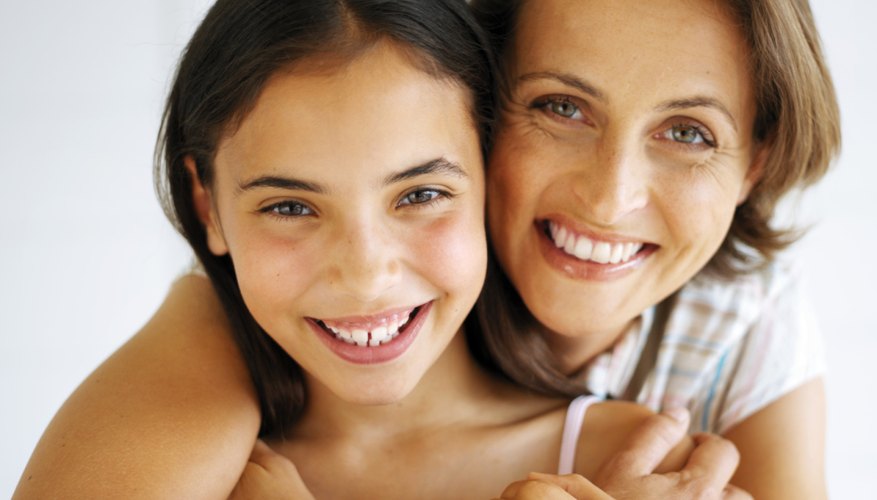 The bond between mother and daughter is a special one that needs to be continually nurtured to ensure a healthy, trusting relationship as time goes on. Plan regular mother and daughter dates where you do something special together, just the two of you. If you and your daughter are crafty, you can spend an afternoon creating mother-daughter art and crafts that you can proudly wear or display.
Matching Jewelry
Make matching friendship bracelets using colorful beads. Let your daughter choose the colors of beads to use, then make bracelets for each other, using those colors, in any pattern. You can cut out tiny charms related to your child's interests from a strong poster board and use thin craft wire for backing. If she loves horses, for example, you could make a horseshoe shaped charm. You and your daughter can also make bead necklaces for each other with a poster board charm that says "No. 1 Mom" or "Best Daughter." Make the one for your daughter while she makes the necklace for you.
Ceramic Art
Visit a ceramics art shop where you and your daughter can pick out a figurine that best represents the two of you to paint together. You can also each pick out a figurine for the other and paint them. Another idea is to visit a pottery studio where the two of you can make something from scratch. Ideas include making a ceramic decorative plate that includes both of your names and a quote about mothers and daughters.
Homemade T-Shirts
Pick up some fabric paint and get creative making mother and daughter T-shirts. You could write cute captions on the shirts, such as "Like Mother," on one and "Like Daughter," on the other. Another idea is to write "Queen," on yours and "Princess," on your daughter's. Your daughter could also write, "Best Mom," with an arrow underneath on your shirt, and you could write "Coolest Daughter," on hers. Decorate the T-shirts with hearts, smiley faces, flowers and anything else the two of you love, but use the same colors on both T-shirts.
Frameable Art
Work on a painting together that you can frame and display in your home. One ideas is to trace each others head silhouettes on black paper and paste it onto white poster board so they are facing each other. You could write "Love" or another endearing word or phrase at the top. Another idea is to draw a line down the middle of a poster board and write "Mom is..." on one side at the top, and "Anna is.." or whatever your child's name is on the other side. Use magazines to find words that describe each other, such as "funny," "sweet," "caring" and "beautiful." Cut them out and paste them onto the poster board in the appropriate spot.