A 20-month-old child should know how to swallow solid foods without gagging, pick up food pieces and chew properly. The American Academy of Pediatrics recommends breast milk until a child is one year old, but the World Health Organization allows it until age 2. At this age, food should no longer be pureed; rather, it should be offered in bite-size pieces. Now is the time to expose a child to a variety of foods without excessive salt or sugar. To balance blood sugar and energy levels, a toddler should eat frequently but not constantly. Avoid foods and beverages caffeine, white carbohydrates and sugars.
Eating Plan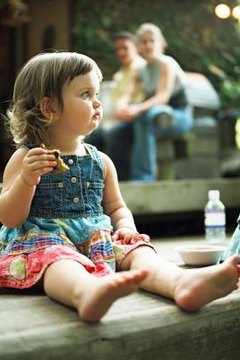 Jupiterimages/Photos.com/Getty Images
A toddler should eat four to six mini meals a day. Mini meals are small, frequent snacks or meals that include a fruit, vegetable, protein, grain or dairy. Mini meals and snacks should be nutritious and not packed with empty calories, additives or altering chemicals. Serve simple foods paired to complement food groups. A toddler should eat every two to three hours. A good plan to follow is breakfast, mid-morning snack, lunch, nutritious snack, dinner, bedtime snack. At this age, a toddler should be eating what is served to the family but should avoid sodas, junk food or too little portions of veggies. Don't ban sweets; rather, offer natural, unaltered sweet treats. Avoid harsh vegetarian or vegan diets: these usually backfire and the child eats too many carbohydrates and not enough protein.
Daily Food Needs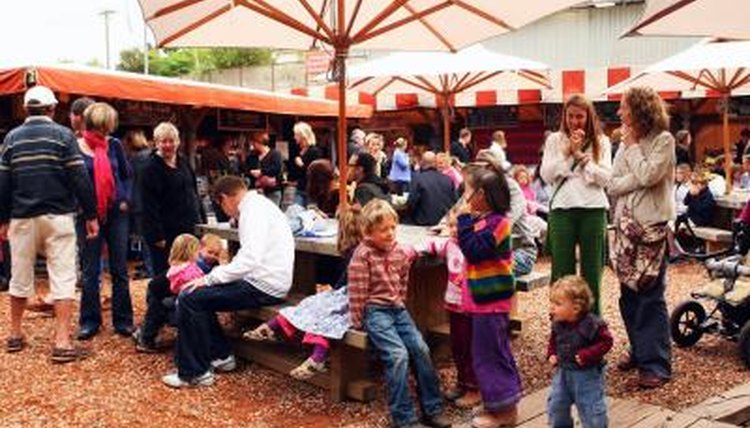 Phil Walter/Getty Images News/Getty Images
The American Academy of Pediatrics recommends that after weaning, a tot should drink from 16 to 24 oz. of whole milk daily from a cup. Portion food into 1-oz. servings equal to 2 tbsp. of food. Daily requirements include two to four servings of fruits and vegetables; two to three protein servings such as beans, eggs, lean meat and fish; whole grains like brown rice, whole wheat bread, whole grain pasta and oatmeal; and dairy products like 16 oz. of milk or yogurt, or 4 oz. of cheese.
Food and Drink Suggestions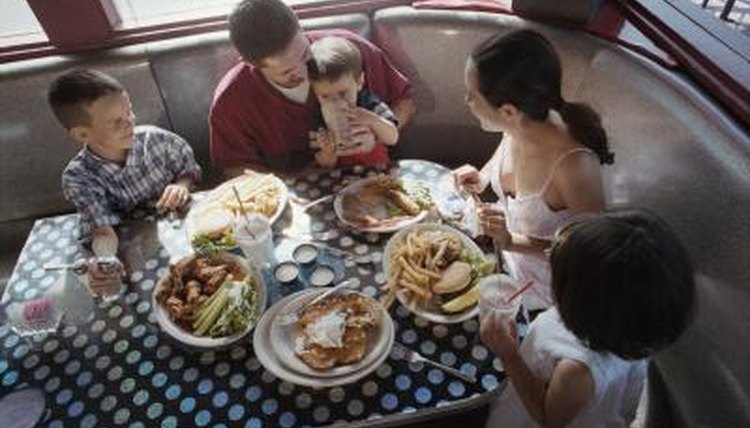 Polka Dot Images/Polka Dot/Getty Images
Examples of healthy toddler meals include whole wheat macaroni and cheese with tomato, peas and carrots; ground beef or firm tofu with marinara and whole wheat macaroni; a burrito with beans, cheese and mild enchilada sauce; hash browns with broccoli or spinach and melted cheese. Offer simple snacks such as frozen peas, carrots and green beans; fresh fruits like blueberries, peaches, grapes that are quartered and sliced strawberries;; whole grain cereals like puffed wheat or Cheerios; rice cakes and whole grain crackers; yogurt; semi-hard, cubed cheeses like cheddar, jack or provolone; muffins and sweet breads with shredded carrots or zucchini, or pureed pumpkin; and baked whole-wheat breads. Healthy snacks often combine food groups like "ants on a log" with peanut-buttered celery sticks sprinkled with raisins; whole grain tortilla chips topped with veggies, salsa, shredded cheese and guacamole; apple slices with string cheese or peanut butter; frozen, no sugar added, fruit bars with 4 oz. of milk, berries with low-fat frozen yogurt; crinkle-cut carrot chips with hummus; and graham crackers with applesauce or low-fat cream cheese. Besides milk, offer drinks that contain 100 percent fruit juice. A daily juice serving is only 4 to 6 oz., so dilute the juice with water. Frozen confections include fruit smoothies, sliced fruit with yogurt, or homemade frozen fruit juice pops.
Combining Meals with Snacks to Meet Daily Requirements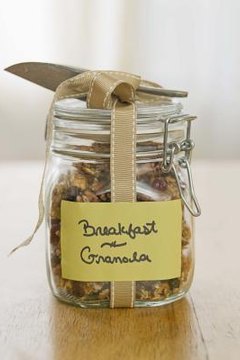 Jupiterimages/Brand X Pictures/Getty Images
An excellent paired-food snack is an omelet. Not only does the egg supply protein, but an omelet can also offer veggies, cheeses or meat pieces, which are wrapped inside. Consider this nutritious scenario: serve a whole-grain waffle, which is high-fiber carbohydrate, for breakfast, and follow with a mid-morning snack of a cheese slice, which combines a dairy and a protein, and sliced fruit segments. A healthy dinner might be a turkey burger on whole wheat bread, which provides protein and fiber, followed by a dessert snack of mixed berries and yogurt -- a fruit, carbohydrate and dairy combination.
Foods to Avoid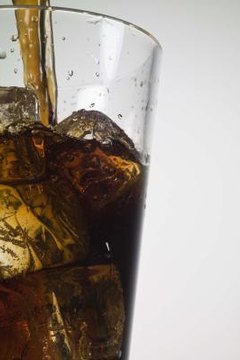 Jupiterimages/Comstock/Getty Images
The 20-month-old child should avoid foods that could get stuck in the windpipe or esophagus and cause choking or gagging. Avoid the following foods until a child is 2 or 3: nuts; peanut butter; caramels; chewing gum; whole grapes; raw, hard fruits and vegetables; meat chunks; bacon pieces; hot dogs; sunflower seeds; raisins; popcorn; potato and corn chips; and hard candy. Don't introduce a tot to soft drinks, diet sodas or sugary juice drinks to quench his thirst. An obese preschooler can be heading toward child diabetes.