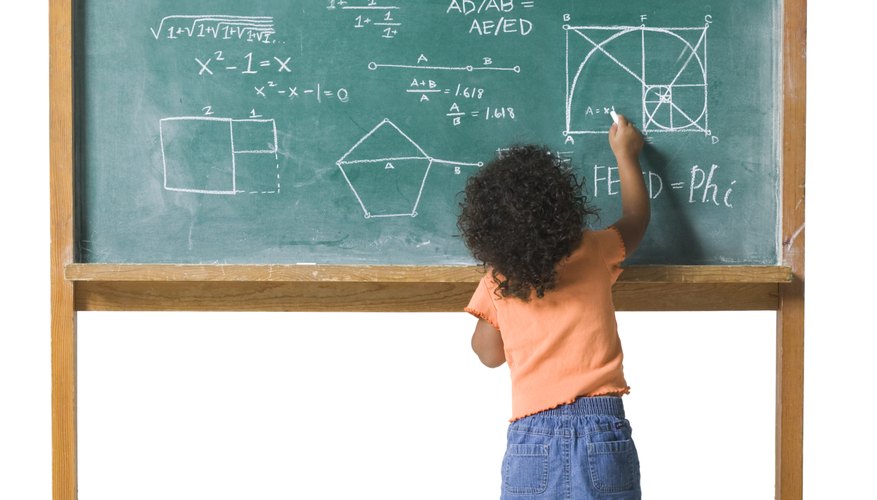 When started at an early age, math lessons can alter a child's cognitive development, allowing the child to adapt to new ways of thinking. Whether your child is struggling with math or you'd simply like a more solid foundation for her, consider getting additional enriching help outside of school hours. A number of math centers in the Boston area cater to students of all ages and abilities and help them on their way to mathematical success.
Kumon
Kumon is an after-school Math program designed for students from preschool to 12th Grade. Named after Toru Kumon, a Japanese math educator the first Kumon Math Center launched in 1958. Since then, more than 16 million students have benefited from the program's self-learning method, according to the Kumon website. Using math worksheets, children cover subjects from addition and subtraction to advanced algebra and beyond. Completing daily assignments at their own pace helps children build confidence and a solid foundation of mathematics. Each assignment builds slowly on the previous one and the gradual advancement keeps kids encouraged and enthusiastic. This franchise-run program has Boston-area locations in Brookline, Newton, Quincy and Braintree.
Mathnasium
Mathnasium is another franchise-owned math center in the Boston area. After assessing a child's math skills, a personalized program is developed for them. Trained Mathnasium experts provide one-on-one tutoring for an hour, once or twice a week -- helping improve valuable math skills or even how the child thinks about math in general. Mathnasium centers cater to preschoolers through high school students and assists with anything from foundational math to standardized test preparation. At Mathnasium, parental feedback is an important measure of a child's progress, but the tutors also rely on report cards and standardized test scores from a child's school district. Boston's nearest center is in Newton Highlands.
The Russian School
The former Soviet Union recognized the importance of mathematics and science and developed curricula for magnet schools with an emphasis on cognitive development. The Russian School uses this approach to help Boston-area children in developing math skills. It's an after-school math enrichment program that attempts to develop problem-solving and critical thinking and promotes understanding the subject matter completely, over rote memorization. At the Russian School, children work in groups of eight to 12 of their peers in a classroom setting, in the hopes of promoting an intellectually stimulating environment. Students both teach and compete with each other as part of the Russian School classroom experience. Programs are available for grade school through high school, with rigorous summer school sessions offered each year. You can find a Russian School in Newton.
The First School of Mathematics
An enriching and comprehensive mathematics education is the goal of the First School of Mathematics in Brookline. The school prepares children from grade school and older for the rigors of advanced math and teaches them to pass standardized tests such as SAT's. Each child has their own plan, which adjusts as skills are grasped and students learn at their own pace, so that lessons are mastered. The First School of Mathematics specializes in homework help, private tutoring or college preparation, catering to public and private school students of all ages.