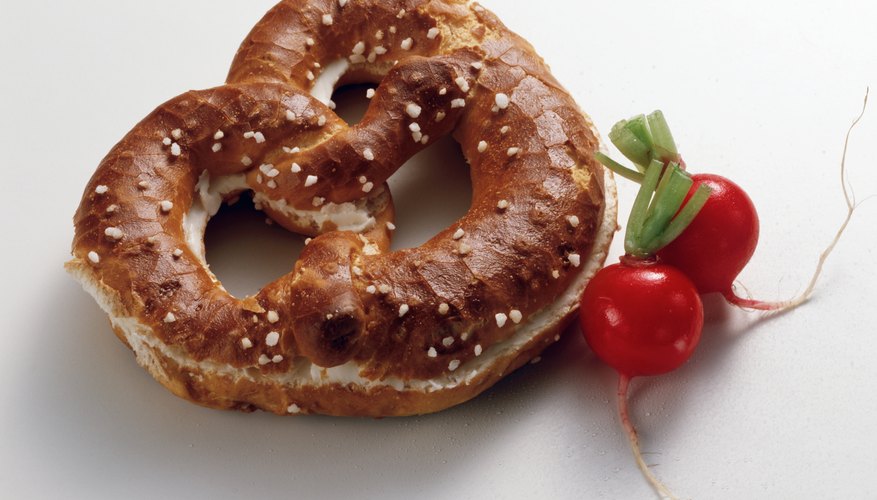 Soft, chewy pretzels hot from the oven are a popular snack from street vendors. But who wants to spend all that money when you can make these yourself? With a little help from your preschooler, you can make your own. Make interesting new pretzel creations in all shapes and experiment with different flavors together.
Dough
Your preschooler can help you make the pretzel dough by measuring out the ingredients and mixing the ingredients in the bowl. Use self-rising flour or add active dry yeast, so that your child won't have to wait for the dough to rise before bending the pretzels into shape. Read out the ingredients to your preschooler as he helps you combine them: all-purpose flour, warm water, sugar, salt, eggs and the other items in the recipe. Make sure you are working on a clean and sanitized surface as your preschooler will drop and pick up ingredients. If you are using an electric mixer to knead the dough, ensure that your inquisitive child cannot reach it or pull the machine towards himself by grabbing the cord.
Pretzel Twisting
This is the fun and creative part. Wash your child's hands again, and give him an apron to protect his clothes. Next, dole out pieces of dough and show him how to roll it like a snake to begin twisting pretzels. Give your preschooler free reign to shape the soft dough into whatever he can imagine. Beyond the traditional pretzel shape and spirals, children can create animal figures, spell out letters and form numbers and shapes.
Flavors
A good thing about homemade pretzels is that you can control the ingredients, while also creating custom-flavored pretzels. These doughy bites can be sweet or savory and you can add flavors into the dough while mixing them – or, after baking them. Plain pretzels typically have sprinkles of sea salt or sesame seeds on them. For cheesy pizza pretzels, add herbs such as dried or fresh oregano into the dough and top each one with pizza sauce and grated cheese before baking. Make a sweet dessert by dusting each pretzel with powdered sugar and cinnamon or spreading a dollop of jam on the top.
Considerations
Freshly baked pretzels will be very hot. Ensure that they cool down sufficiently before letting your preschooler handle and eat one. Using whole wheat flour instead of white, refined flour adds more fiber, minerals and vitamins to your pretzels. If your preschooler has a gluten allergy, he can still enjoy homemade pretzels by making them from gluten-free spelt or barley flour, instead of wheat.