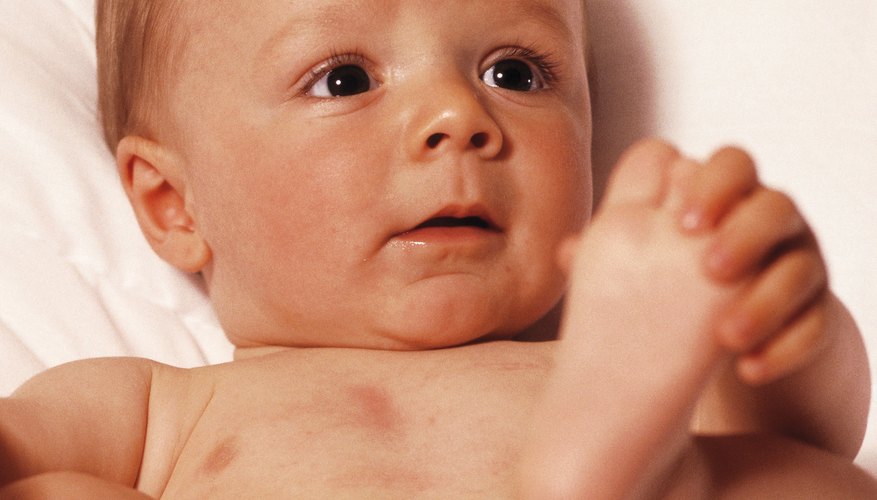 Diaper covers can dress up a boring diaper and provide an extra layer of protection. A gingham print, an owl design or a pop of color is more fun that a plain white diaper. You can also choose fabrics that complement or dress up an outfit. Use covers over disposable diapers or cloth diapers to help keep your little one's clothes dry.
Purchase a pattern for the diaper cover. If you have an old diaper cover, you can cut it open and use it for a pattern. Since a diaper cover is shaped like a pair of underwear, you can also use a pair of underwear that are a couple of sizes too big for the pattern. The size has to accommodate fitting over a diaper.
Cut the two pieces for the pattern from your fabric. You will cut a front and back. Use any kind of fabric that you like for the diaper cover.
Cut the same two pieces from your clear plastic. A piece of vinyl or a clear tablecloth or shower curtain can be used. The plastic should be relatively thin and flexible.
Pin the plastic to the wrong side of the fabric.
Sew the sides and crotch of the pattern pieces together, sewing through the fabric and the plastic. Use a serger to finish the edges, if you have one. If you don't, use a zig-zag stitch to prevent fraying.
Sew a 1/2-inch casing around the legs and the waist. Simply fold over the hem by 3/4 inches, leaving 1/4 inch for the seam allowance and a space of 1/2 inch to insert the elastic. Leave a 1-inch opening in the casing.
Cut the elastic for the waist and legs to the length indicated by your pattern. If you didn't use a pattern, measure your baby's waist and legs and make the elastic an inch shorter.
Attach a safety pin to one end of the elastic and close it. Push the closed end of the safety pin through the casing on one of the legs, pulling the elastic all the way through the hole.
Sew the ends of the elastic together using a zig-zag stitch.
Sew the casing closed with a straight stitch.
Insert the elastic in the other leg hole and waist band using the same steps.
Tip
Though you can use any kind of fabric you like for the diaper cover, think about maintenance and daily wear. Silk may look pretty, but is hard to clean. Fleece will keep your little one warm in the winter. Good choices are knits and cotton, since they are lightweight and easy to clean.
You can add decorative elements such as ruffles, applique or trim to the bottom for a more creative look.
Warning
Do not wash or dry your diaper liners in high heats as this could melt the plastic.