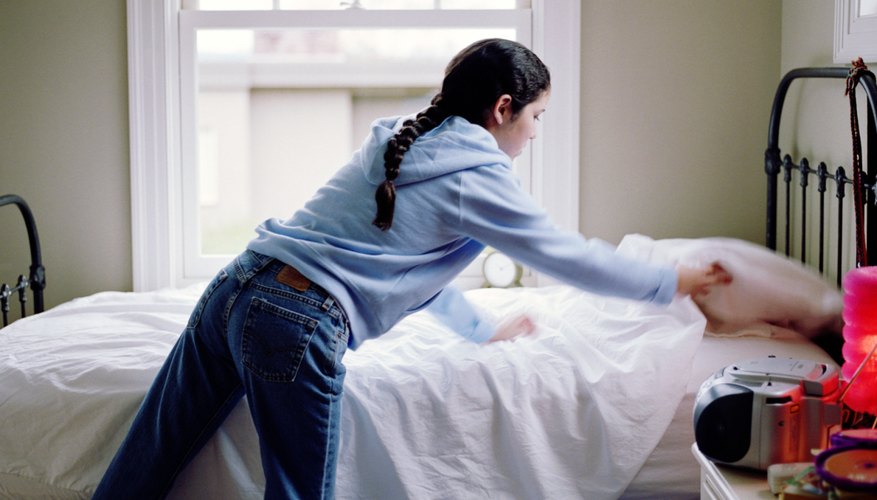 The warm, inviting bed you made for your child can quickly become a jumbled mess of sheets if the flat sheet does not stay in place throughout the night. Cold feet, uncomfortable bunching and sheets that fall off the bed altogether might make for a frustrating experience as your child makes his bed each morning. With a few simple solutions, you can keep the flat sheet in place all night, no matter how much tossing and turning goes on in the bed.
Place the fitted sheet onto the bed and smooth out any wrinkles, ensuring that the fitted corners reach around and under each corner of the mattress.
Place the flat sheet onto the bed and align the top seam with the top of the mattress. The bottom seam should hang over the bottom of the mattress. Make sure the overhang on each side of the mattress is as even as possible.
Tuck the flat sheet under the bottom of the mattress and snap on at least two but as many as four, depending on the bed's size, sheet grippers by opening the gripper and then snapping it in place so it grabs the sheet and the slight cording around the bottom edge of the mattress.
Secure one end of a sheet suspender to the overhang of the sheet on the left side of the mattress about 6 inches toward the head of the bed from the foot of the bed. Repeat for the right side of the mattress. Ask a friend or spouse to lift up the bottom portion of the mattress and tuck the overhang at the bottom of the mattress under the mattress. Secure the other end of each suspender clip to a portion of the flat sheet that will remain under the mattress when it is in place on the frame or box spring. The suspenders should stretch to about 6 inches in from each side of the mattress and secure to the sheet to keep the flat sheet in place.
Tip
Sheet grippers and suspenders are also useful in preventing a fitted sheet from coming loose. Check the suspenders or grippers each time you make the bed to prevent them from coming loose and becoming a choking hazard for small children.