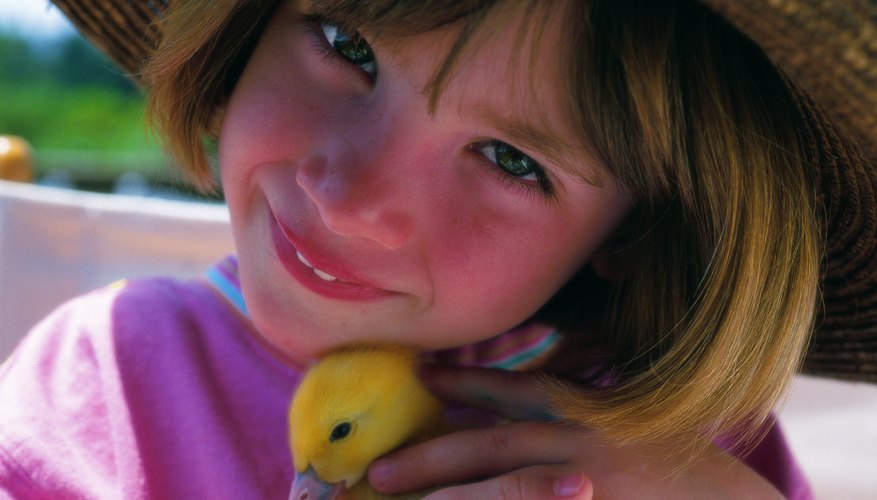 Whether you're making the finishing touches of your child's adorable duck costume for Halloween or creating a simple dress-up accessory for imaginative play, this duck bill will have her waddling and quacking in no time at all. If you're hosting a farm-themed birthday party for your child, surprise your young animal-loving guests with their very own duck bills to wear during the celebration -- but don't be surprised when there's a whole lot of flapping and quacking going on!
Draw a curved line on the sides of duckbill. Start at the creased edge, about two inches away from the outer edge and draw a curved line outward to create the duckbill shape.
Cut an equilateral triangle from the poster board or card stock. Make each side about 3 1/2 inches for a young child's costume accessory or 4 1/2 inches for an older child. Trace the shape of the triangle on another piece of poster board or card stock and cut it out. Now you have the upper and lower pieces for the duck bill.
Color or paint the triangles with your child. She isn't likely to turn down an opportunity to unleash her artistic side, even if you're using yellow construction paper.
Make a 1-inch long slit in the middle of one side of one triangle. Slide one side of the slit behind the other using your fingers. This will make the upper portion of the beak begin to dome slightly like the upper half of a duck's bill. Secure the slit with clear tape or craft glue. Make a hole at the left and right of this side of the triangle with a hole punch.
Make a hole at each end of one side of the other triangle with the hole punch.
Measure the distance from your child's left cheek, around the back of her head to her right cheek. Cut a piece of elastic string to this length.
Place the domed upper half of the bill on top of the bottom half and align the holes in the two triangles. Tie one end of the string through the left holes in the duck bill and the other end through the right holes in the duck bill.
Slide the duck bill over your child's head carefully. If you prefer, you can tie the string to the left holes, hold the duck bill against your child's mouth and tie the other end of the string for a perfect, snug fit.
Tip
If you'd like to make the duck bill last for a long time, make it from felt instead and use fusible interfacing to stiffen the fabric. Sew the elastic ends to the edges of the duck bill instead of using a hole punch and voila -- a costume accessory that will last.