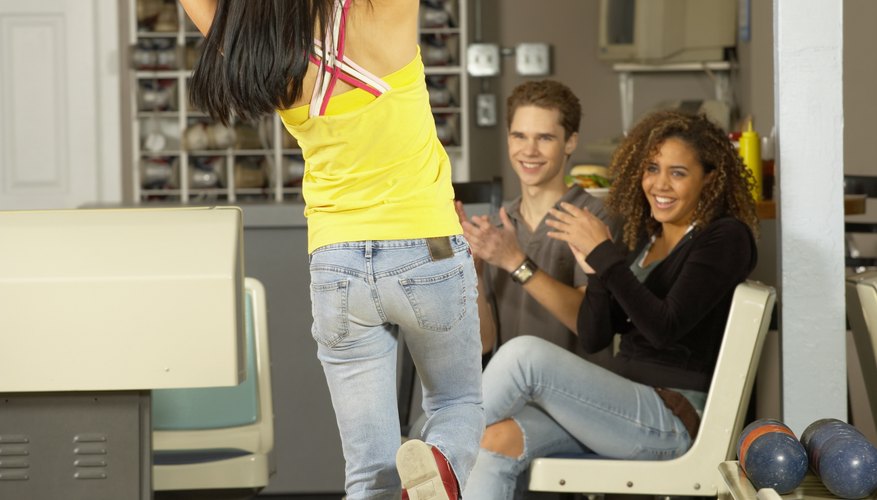 An ordinary bowling party is just fine for a young child, but when you're planning a party for a teenager, you have to go above and beyond the ordinary to keep the party group entertained and make the birthday celebration a big success. Fortunately, all you need is a little creativity, planning and perhaps a little feedback from your teenager, and you're sure to plan a party that won't soon be forgotten.
Look for a bowling alley that offers something out of the ordinary. Some venues offer glow in the dark bowling, loud, youth-oriented music, arcades, miniature golf and billiards tables. Call the bowling alleys within your area to see which one has the most to offer on your budget. If you reserve a venue that offers other attractions, increase the length of the party to make sure the teens have a chance to enjoy the additional activities. If you can't lengthen the party time, have the kids check out the arcade or play a round of billiards while other members of the party group are bowling.
Arrange the party foods to keep a hungry party crowd satiated. Find out if the bowling alley will allow you to bring in your own foods or if you must purchase the food offered at the party venue. If the on-site menu is out of your budget range, you can have the party group meet at your home for a bite to eat before the party, or bring them back to the house after the event to fill up on popular party foods for teenagers, such as pizza, subs or nachos and cheese.
Divide the party group into teams to turn a friendly bowling match into a competition. Have the teams come up with a name for themselves to encourage a little team pride. Bring along plain bowling shirts -- ordinary white T-shirts work fine, too -- and have the kids write their team's name across the back of the shirts with fabric pens or markers. Hand out trophies or prizes at the end of the event for the team with the highest score, the best and worst bowlers, and the funniest bowler of the evening.
Call out different requirements for each round of bowling to make the game more interesting and create a few giggles. You can have the teens try bowling with their non-dominant hand, aim for a particular pin, close their eyes, bowl kiddie-fashion with both hands or speed-sing while the ball rolls toward the pins.