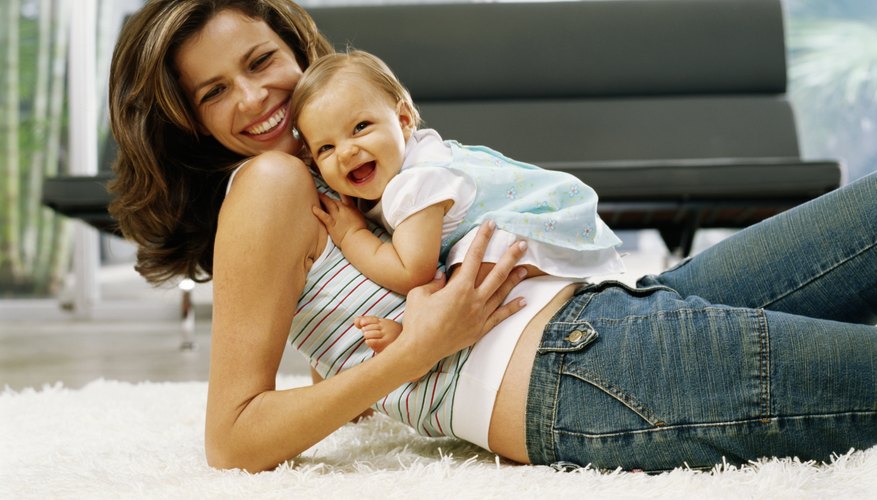 All parents think their 9-month-old is a little smarty, but you can also help your baby boost her brain power by doing a few easy things during the day. Feeding your child nutritional meals on a regular schedule and allowing at least 12 hours of sleep during the day and night help optimize your baby's brain development. A daily routine of play, movement, informal exploration and human interaction gives baby stimulation and information to learn about the world around him.
Share books with your baby. Develop a daily routine that allows your 9-month-old baby to sit with you in a quiet place to hear you read a story during the day and before naps and bedtime at night. Use gestures, facial expressions and an animated voice to read the text, and pause to give your baby time to react to your performance and mimic the faces you make. The American Academy of Pediatrics suggests you give your baby free rein to pat pictures in the book and help turn pages. Pause frequently to let your child examine the colorful images and any texture provided on the pages.
Talk to your baby throughout the day to explain about the world around him and to encourage him to feel comfortable with the unexpected. Point out the origin of sounds in your home, and use simple words to describe interesting sights outside, such as birds and animals.
Create an interesting home environment for your child and play with your 9-month-old using interactive toys. Babies develop the pincer grasp fully by 9 months, and interactive playthings give your baby the ability to pick up small objects such as blocks. Your child typically explores solo during this time, but you can offer encouragement by showing your child how toys operate and move. KidsHealth recommends shape-sorting and mechanical toys with knobs, buttons and sounds that teach children cause-and-effect actions.
Present your baby with safe, everyday objects such as oven mitts, plastic bowls filled with blocks and shoe boxes to touch, smell, taste and explore. Experimentation with opening and closing and filling and dumping containers allows your child to discover how things operate and the ways things interact.
Place items in your baby's room to stimulate imagination and play. Unbreakable mirrors allow your baby to look at facial features and see how the mouth moves when laughing or crying. KidsHealth recommends putting an interesting mobile above your child's crib or playpen to create interest in the moving figures and the colorful parts. These help baby pay attention to the environment.
Encourage your child to role-play using dolls, stuffed animals and puppets to learn. Your 9-month-old uses repetition to learn, according to Zero to Three, and play offers unlimited chances for repetitive play.
Tip
Select toys that mimic adult objects, such as telephones and small dishes, to encourage your child to make connections to the practical items found at home.