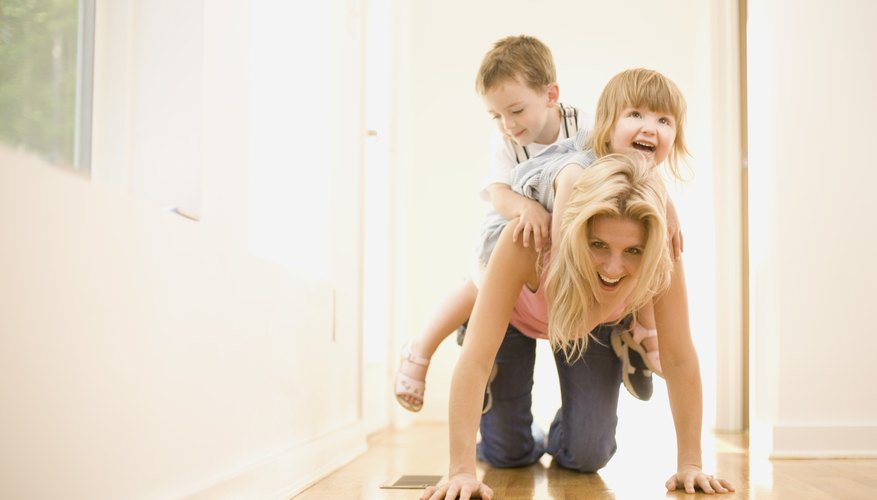 A woman's body changes after going through the rigors of childbirth for the third time. Each baby brings joy, as well as greater fatigue as a new mom struggles to meet the needs of each child and manage a household. If babies are born in close succession, you may not have had adequate time to shed weight from the previous two pregnancies. Make yourself a top priority so you can maintain the energy level needed to care for three little ones and lose that baby weight.
Exercise
You don't need a gym membership to lose your baby weight, but you do have to get up and move to work those muscles. Exercising helps boost weight loss and relieves the body of stress, which lowers depression and increases sleep, says Melinda Johnson, MS of WebMD. Strive for 150 minutes a week, beginning with 10-minute increments and moving toward 20- to 30-minute chunks of time. Exercise while the little ones are napping, or include them in the activities. Load up the stroller and walk through the neighborhood. If you spend time at the local playground, strap your baby into a baby harness and walk around the play equipment as your older children play.
Eat Healthy
Make time to eat and load up on super foods that are necessary to keep energy up -- this is particularly necessary for a woman caring for three kids. Consume foods that are low in calories to help with weight loss. Include foods high in protein and calcium as well. Proteins will help you feel fuller for longer stretches of time, while calcium builds stronger bones -- something every woman needs, especially if she's caring for three young children.
Hydrate Your Body
Staying hydrated by drinking plenty of water helps increase weight loss by speeding up your metabolism and promoting satiety so you won't want to overeat or snack too much. A sluggish metabolism will encourage your body to hold onto weight and slows the caloric burning process. To determine how much water you need daily, Johnson recommends using your urine color as a guide. A person drinking enough water should use the restroom every three to four hours and have clear urine flow.
Get Enough Sleep
Being sleep-deprived makes losing weight a definite challenge. If you are too tired to care for yourself or your kids, take short naps during the day while they sleep. Napping will refresh you and provide a needed burst of energy. Go to bed early so you won't be too groggy when the baby or other young children awaken through the night. If your third child is still in infancy, share nightly feedings with your partner in order to get an extra hour or two of rest.