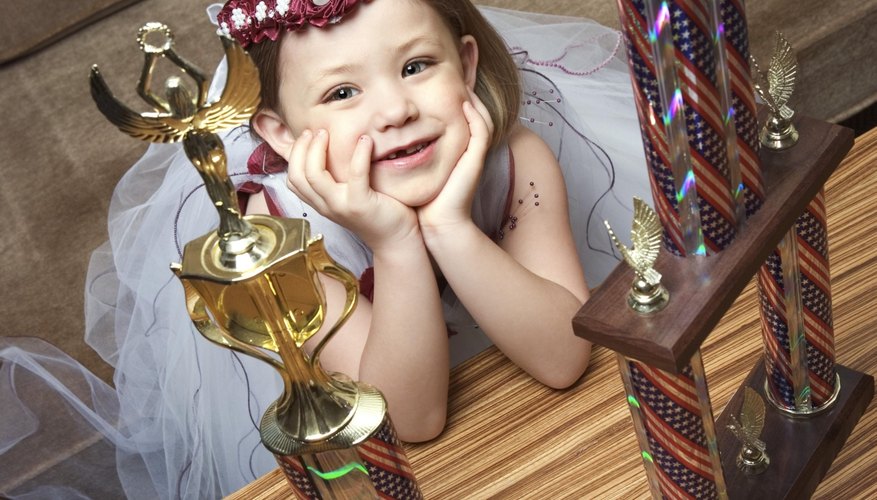 To find a beauty pageant for your child, get referrals from people you know and trust to ensure that you're enrolling your little one in legitimate events. Use national resources and local businesses to ensure that your little beauty has the best pageant experiences.
Browse pageant directories online. A pageant directory will have listings of pageants for all age groups and include links to listings by state, pageant news and auditions. You will also be able to see information on contests, apparel, and pageant questions and trivia.
Go to shops that sell pageant wear. They will have all the regional and national information and will be able to give you advice on which pageants they have worked with and can recommend. You might be able to contact other pageant contestants and gain personal knowledge on the best and worst pageants to participate in.
Chat with pageant moms on pageant forums online to get information about regional pageants. Learn contact names and get tips from parents who have experience with pageant organizations. Read through forum questions and answers to learn about the pageant world and what issues are being talked about. This should help you avoid problems and select the best pageants to participate in.
Contact national beauty pageant organizations that run contests for children. Universal Royalty, World's Precious, Glamour Girls and Royal International are just a few of the nationally run pageants that provide information on how to participate. They each have their own websites that provide directions for enrolling in pageants.
Pick up pageantry magazines. Although pageantry magazines cover contests for all age groups, they will have contact information and calendars of events for pageants for children.
Tip
Consider "natural" beauty pageants versus "glamour" pageants for children, if you prefer not to use make up and mature looks on your tot.
Warning
Do not invest or enroll in local pageants that are not affiliated with national pageant organizations. Thoroughly investigate any contest you involve your child in to insure the safety of your child.