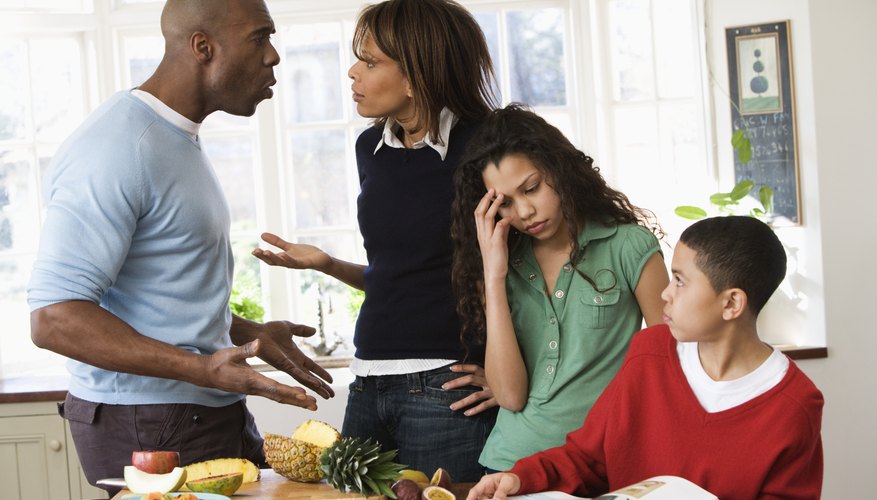 When you married your husband, you may have been thinking more about the "for better" than "the worse." But when it comes to blending two families, you may find yourself overwhelmed with co-parenting your teenage stepchildren. Power struggles and arguments may surface as each member of the family adjusts to a new living situation. Left unchecked, problems with your stepchildren could affect your marriage. Getting the situation under control as soon as possible is in the best interest of everyone.
Talk to your spouse about any of the struggles you experience with his children. Creating a united front to handle problems can relieve some of the tension you feel, according to the American Academy of Pediatrics. If your spouse does not stand up for you or speak to his children if they are treating you poorly, their treatment may continue.
Make an effort to get to know your spouse's children. Spending time together on activities that you both enjoy may help you bond, according to KidsHealth. A common interest can also give you and your teenage stepchildren something to talk about together. Keep the initial hang-outs brief and give your stepchildren distance if they need it.
Move slowly when getting to know your stepchildren. Teenagers tend to be less receptive of a new stepparent than younger children, according to the American Academy of Pediatrics. If they say something offensive to you, you might say, "I'm sorry that you feel that way about me. Maybe as we get to know one another better, things will change," before leaving the room. Keeping calm and defusing a potential fight can lead to a more satisfying relationship with your stepchildren later on, according to PBS Parents.
Maintain a positive relationship with the other parent of your stepchildren, and avoid saying anything negative about her. Showing that you respect both of their parents may help teenage stepchildren appreciate you, according to PBS Parents.
Give your stepchildren some control over their environment. If someone is unhappy about the household or struggling to adjust to the new living arrangements, a family meeting can help everyone air their concerns and reach a solution, according to the American Academy of Pediatrics. Showing that you are concerned about the well-being of everyone in the family may go a long way in preventing a power struggle.
Realize that you may never love your stepchildren and they may never love you, but you can still have a happy and fruitful blended family, according to PBS Kids. Treating each other with respect and civility despite your feelings can keep everything functioning smoothly.
Tip
Encourage your spouse to talk to her children if you suspect that your stepchildren are still recovering emotionally from their parents' divorce. Your stepchildren may treat you poorly because they are still upset about their parents' break-up.