For many parents, getting ready for baby begins the day they confirm the pregnancy. True, a newborn baby needs specialized items, and many of these are designed to make new parents lives' easier. Try not to get overwhelmed by the lengthy lists of "must-haves" that you'll see in every parenting book or magazine. One way to decide what you really need is to group the items into major categories.
Feeding
Photodisc/Photodisc/Getty Images
Newborns will be breastfeeding or bottle-feeding. For bottle or formula feedings, you will need four to six ounce bottles. Start with six or two packs of three. Also, buy nipples, nipple rings, burp cloths and a nipple basket for the dishwasher. Buy two cans of formula to start. A nipple and bottle brush are handy for cleaning. Don't forget to buy extra pacifiers if you intend to use them during baby's first year. The newborn often becomes attached to her pacifier, and they tend to get dropped, left behind or spat out of the baby's mouth. No parent wants be stuck without baby's favorite pacifier, especially if they are a specific brand or design.
Breastfeeding mothers should buy an extra cover-up, like an extra receiving blanket or shawl to carry along just for breastfeeding in public. A C-shaped nursing pillow comes in handy for breastfeeding at home. It helps the new mother to correctly position the baby so that his mouth can comfortably find the breast. Add burp cloths to your list as well. Breastfed babies spit up too.
Bathing and Toiletries
Stockbyte/Stockbyte/Getty Images
Pediatricians recommend giving newborns sponge-baths until the umbilical cord falls away, but soon you will be giving baby regular baths. Buy a set of soft washcloths and towel with a hood to dry the baby. You also need a plastic bathing tub, baby wash, shampoo, lotion, diaper rash ointment, powder and newborn diapers. Do not stock up on newborn diapers, however. Babies grow rapidly, and most are only in the newborn size for a matter of weeks or even days.
Clothing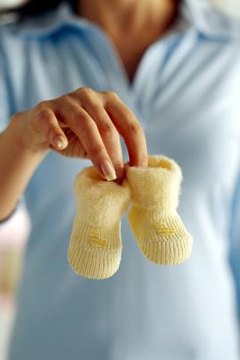 Brand X Pictures/Brand X Pictures/Getty Images
Clothing for the newborn will depend on the season when he is born. Consumer Reports recommends four to six of each of the following: one-piece short-sleeved shirts with snaps on the bottom (easy access for diaper changing), sleepers, socks and outfits for going out or introducing the baby to friends and family. You will also need one or two caps, cloth mittens for baby's hands (to prevent scratching), a hat for the summer sun and a stroller blanket for cold weather.
Furniture/Equipment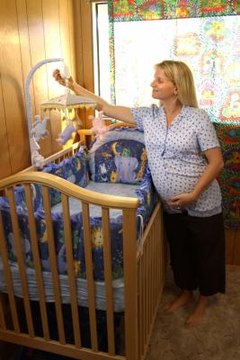 Thinkstock Images/Comstock/Getty Images
You need a crib or bassinet for a newborn. A carrier and swing are optional but very useful pieces as well. A changing table is also helpful. Diaper pails and a rocking chair (for you) are other optional equipment choices that will make your first few weeks home with baby a lot easier. A stroller with a car seat attachment is a great idea for new mothers as well. In fact, a car seat in a necessary item, required in many states in order to take the newborn home. Finding one that attaches to a stroller can be a bargain.
Bedding and Linens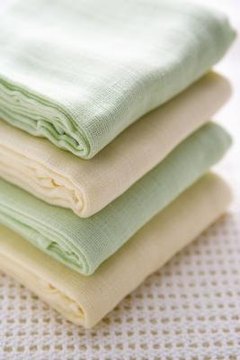 BananaStock/BananaStock/Getty Images
Remember to buy enough bassinet or crib sheets for frequent changes, as well as receiving blankets and mattress pads or liners. Changing pads for your changing table are also a good idea. Some people also buy a cushioned wedge to prevent baby from rolling on her stomach. Do not buy pillows or stuffed animals for the crib, because these present a danger of suffocation.
Health Care
Jupiterimages/BananaStock/Getty Images
You will need a few health-related items: rubbing alcohol and cotton swabs for drying the umbilical cord, petroleum jelly (to prevent diaper rash), an infant thermometer, a bulb-shaped aspirator for removing mucus and acetaminophen liquid for fever and pain. Only give the newborn the acetaminophen with the pediatrician's permission. Buying it now, however, will allow you to have this medicine on hand when needed.