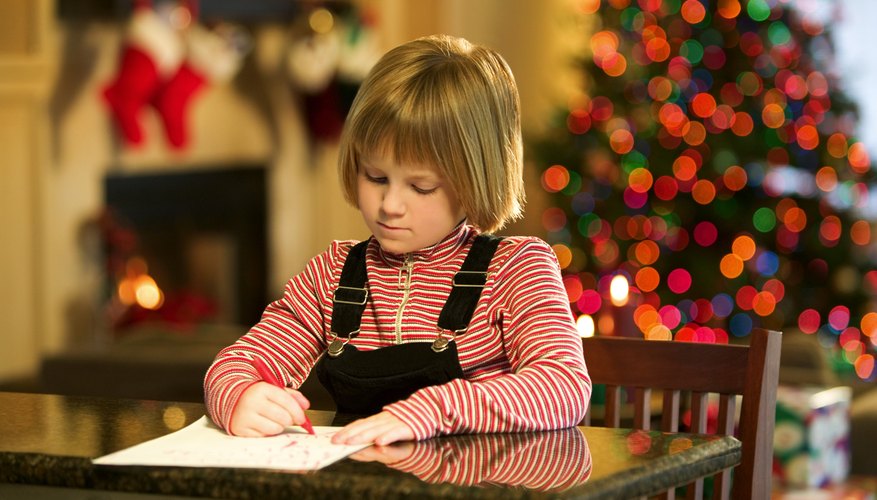 Letter writing remains an important skill even in today's digital age. A physical letter can carry more weight than a quick email, and properly written correspondence creates a powerful impression in the mind of the recipient. In addition, researchers believe that handwriting reinforces reading and vice versa, according to the site KidsHealth. If children have special physical or learning needs, then writing lettes can be a challenge. Find ways to build around your child's capabilities to improve communication, literacy and social skills.
Handwriting
Letter writing starts with letters -- the letters of the alphabet. Typical children start creating recognizable letters around age 3 or 4, and start stringing those letters into words in kindergarten or first grade. Children whose fine motor skills are limited by conditions such as cerebral palsy work with occupational therapists to learn strategies for handwriting, which include using oversized writing implements that are easier to grip or implements with rough textures that provide strong tactile feedback so the child can feel the pencil or crayon better.
Spelling
Many special needs interfere with your child's ability to spell. For example, part of literacy is learning how the sounds of a word match the letters being written. The Journal of Deaf Studies and Deaf Education points to multiple research papers that show deaf students struggle with literacy because of the lack of this relationship between written language and sign language. Spelling drills with flashcards or literacy computer programs can help, but Alice Quiocho, an education professor at California State University San Marcos, warns that drills should be only a part of the program. She suggests teaching words in context, and using multisensory techniques such as tracing the letters in glue to let children touch the words.
Composition
Whether it's a formal cover letter to a potential employer or a quick thank you note to grandma for a birthday present, a well-organized letter will have more impact. Both attention deficit hyperactivity disorder and autism can interfere with you child's ability to focus on a topic, organize the letter or even get started writing. ADDitude magazine suggests starting with shorter letters of two or three sentences and increasing length as your child's skills grow. The Oregon Northwest Regional Education Service District recommends children with autism use outlines or diagrams to map out the letter first to avoid getting too focused on one concept.
School
Students often behave differently at home than they do at school. Bring your concerns about your child's writing skills to the teacher's attention. Although the skills should be addressed in the child's individual education plan, you don't have to wait for an IEP meeting to discuss your educational concerns. Work out writing activities that can be done both at school and at home. Consistency helps students with special needs pick up skills more quickly.