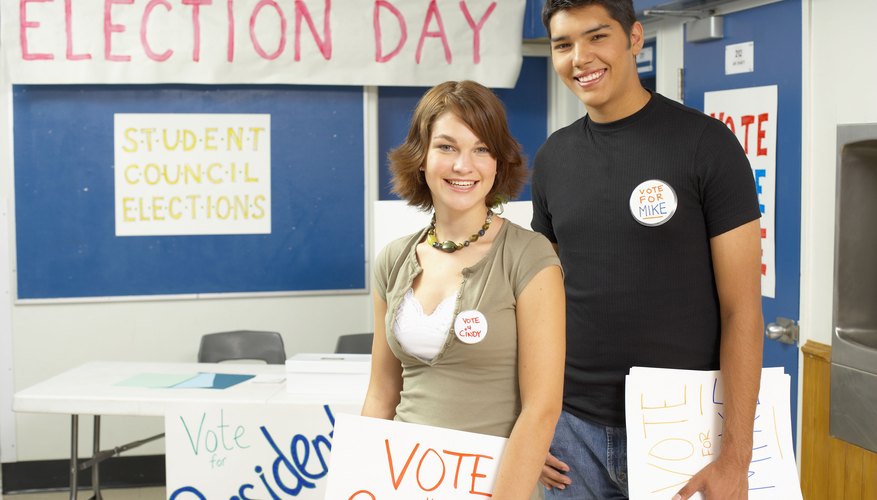 Your teen's first year of high school can really set the tone for how the remaining years go. You want to help her get active from the start so she can make the most of her high school experience. Leadership activities will not only help her build confidence and skills, they will help her meet new people and make friends who are also active and motivated individuals.
Meet and Greet
Aside from orientation, there may not be a more casual get-together for new students. Incoming freshmen will be new to the school and the faculty, and likely not know many other students. Check with your student's administration and see if it would approve a meet and greet activity at the school for new students. Then, help your teen plan and organize the event. The administrators can recommend other students that might be willing to help with the event or have your teen recruit people himself. He'll meet others as he organizes the meet and greet, and he'll get to know many more at the event itself. This can also help him make contacts and maximize his exposure with his class and administration for future projects or class elections.
Student Council
Talk to your freshman about student council. There are numerous positions of leadership there. If she doesn't get a position, there are other ways to work with the council in supporting roles. Often, individual classes have their own presidencies that direct class events. Becoming a member of the presidency or working with them is another way to be involved. She can volunteer to help with events by taking tickets, decorating and clean-up. Many activities are delegated to a separate committee that will plan and handle all the details of an event, so she can try for one of these as well. Any way she's involved will help her make friends, learn about teamwork and leadership, and develop a better relationship with the teachers and administrators.
Volunteering
Many high schools organize activities to help the students be active in the school and the community. Talk to your teen's school administration and see what programs they already have available, and then encourage him to get involved in whatever capacity he's comfortable. If there isn't a job he'd like, get imaginative and see if he has a talent that could offer a new aspect to the project, such as creating a website to advertise and inform the students, faculty and parents about the activity. If there isn't already a project, he can talk with administrators about starting one. The school will likely try to accommodate such requests so long as the interest is there to support it. He may need to do a little legwork to bring in supporters and organize the project, but it is worth it for the leadership experience gained.
School Clubs
Clubs and sports provide opportunities for your teen to learn new skills and make friends. See what her school offers and what fits her interests. Some ideas include Spanish club, chess club, dance team, art club, computer club or the soccer team. If the school doesn't have it, she can talk to the administration about starting one. For many schools, your teen will just require a teacher sponsor and several interested students to begin. This is an opportunity to meet like-minded people and explore a talent that could benefit her in college. If your child is an athlete but doesn't make the team, look for an intramural group she can join. If there isn't one, again -- start one! Being active and involved is good for her leadership skills, health, growth and college resume.