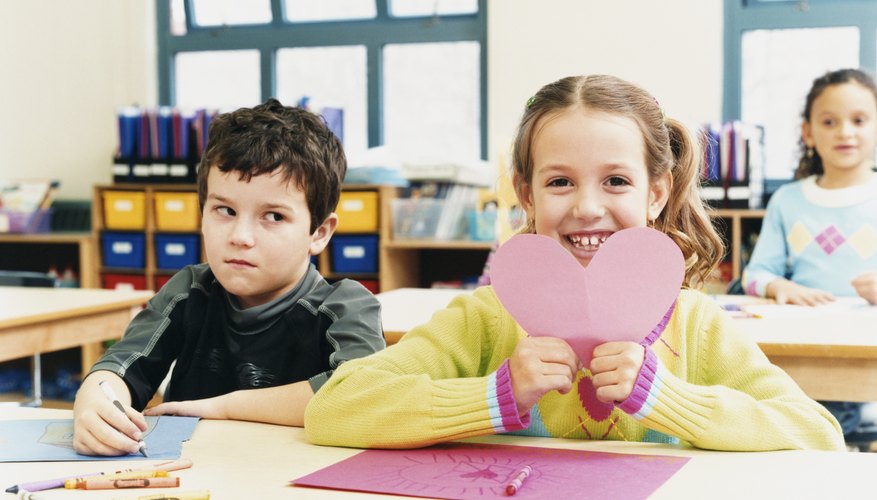 Instead of choosing the same old cookie-cutter kids' Valentine's Day party games and favors, punch up your little one's home or school party with unique ideas and homemade crafts. Whether you are throwing a bash for your child and her friends at home or are in charge of the class holiday activities, picking party games and coming up with fun favor ideas can make the difference between bored faces and a gleefully good time.
In-Home Party Games
Throwing your child a Valentine's Day party at home allows for a wider set of game alternatives than those at school. Without having to follow strict school guidelines, keep it mess-free or constrict the game play to a confined classroom space, you can feel free to try a variety of indoor and outdoor activities. Younger kids in kindergarten and the early elementary years will enjoy a heart hunt -- similar to an Easter egg hunt. Hide wrapped candy hearts or cards around the house -- or outside, weather permitting -- and have the kids search for them. Older kids can try a holiday scavenger hunt. Write clues that lead to special surprises, such as a bag of gummy hearts, on Valentine's Day cards.
School Party Games
If you are in charge of your child's school Valentine's Day party, plan a few entertaining games that will keep the kids busy. Remember that you are in the educational environment. Although a class party is more fun than regular instructional time, you can still add a pinch of learning into your games. Print out Valentine's Day bingo boards that feature the letters "V-A-L-E-N-T-I-N-E" and numbers that the kids will know. Another option, for older kids, is to have a Valentine writing contest. Give each child a piece of pink or red paper and have them write the funniest card that they can think of. You, the other parent chaperones and the teacher can judge the winners based on humor and writing skills.
In-Home Party Favors
Send your child's party guests home with a goody bag full of holiday treats. Create your own crafty favor bags using a lunch-sized paper sack, stickers and glitter pens. Have your child decorate the bags with a heart theme and personalize them with each guest's name. Fill the bag with candy hearts, chocolate or homemade cookies. For a favor that isn't so sweet, fill the bag with heart-shaped stickers, heart stampers or Valentine's bubble blowers.
School Party Favors
You may need to forgo the sugary treats when putting together school Valentine's Day party favors. Before stuffing a goody bag with candy and chocolates, consult the district's policies on in-class food and sweets. As an easy alternative, put together a more scholastic type of favor by binding together a few Valentine's Day themed pencils with a pretty holiday ribbon. Create a more interactive favor and give each child a baggy that you fill with a simple holiday craft such as a heart magnet and stick-on craft foam pieces.