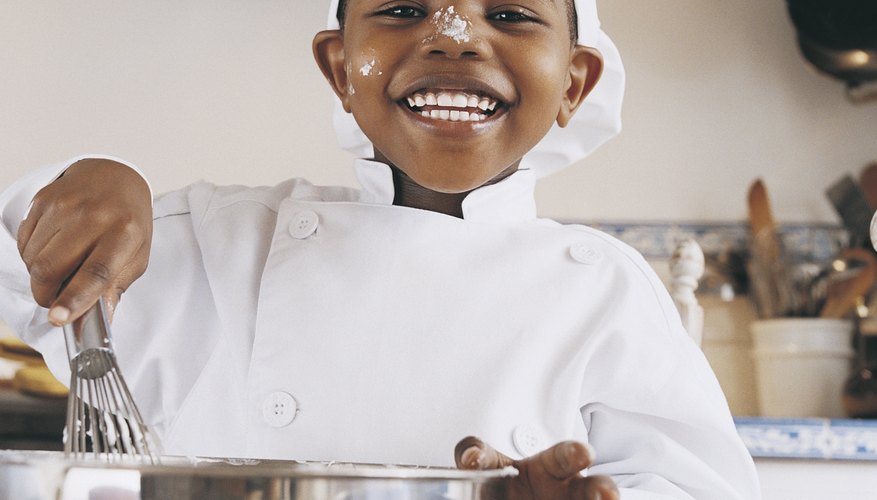 If your toddler loves helping you mix up brownies or your preschooler can't wait to pull up his stool to help with dinner prep, cooking classes may be in your child's future. In addition to launching good food habits, learning to cook helps kids sharpen their science, math and reading skills, according to KidsHealth.org, an online parenting information resource maintained by the Nemours Foundation. In Winston-Salem, North Carolina, you'll find several cooking classes designed just for kids.
Private Classes
Not all preschoolers are ready to dive into a classroom environment, and private cooking lessons may be an ideal alternative. The Stocked Pot & Co. (thestockedpot.com) lets you set up a private class where kids can learn to make everything from the perfect breakfast to picture-perfect gingerbread houses, depending on what they're interested in. Since private classes can be a little pricey, consider teaming up with a few moms from your playgroup or preschool so that you can split the cost while still enjoying a small, relaxed class tailored to your tot.
Family Cooking Classes
Sometimes, learning to cook is the most fun when you do it together. A family cooking class typically focuses on learning how to prepare one meal -- an Italian feast with lasagna and tiramisu, for instance -- or one kind of food, like ice cream in different flavors. The Williams Sonoma store at Hanes Mall (williams-sonoma.com) is one Winston-Salem spot that offers family cooking classes. Pick up a copy of its monthly class schedule in the store.
Specialty Classes
A topic-specific class -- like making holiday cookies or decorating a birthday cake -- can help you test the cooking class waters with your preschooler. The Michael's store at Hanes Mall (michaels.com) has a fun lineup of seasonal classes for kids, from decorating Valentine cupcakes to learning how to make buttercream icing.
Seasonal Classes
Both the city of Winston-Salem and Forsyth county parks and recreation departments include kids' cooking classes on their schedules around the holidays and in the summer. The Polo Park Community Recreation Center, run by the city of Winston-Salem (cityofws.org), offers holiday classes that teach children to make a festive dessert they can take home with them to share with their families. Parks and recreation classes depend on available teachers and interested parents, so let your local center know that you're interested in a cooking class for preschoolers.