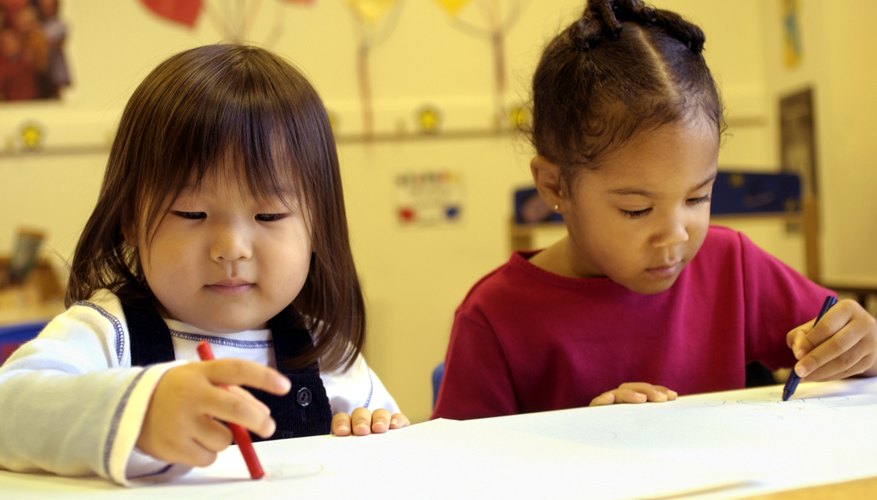 Living in the soggy Northwest can make keeping up with an active toddler or preschooler tough. Your little guy seems to grow more restless with each rain drop -- and there are a lot of rain drops. Fortunately, Washington's community of Federal Way offers plenty of attractions -- indoor options included -- to keep tots busy.
Indoor Play
Although jumping in puddles is fascinating to your little one, indoor play areas are also a must. The Federal Way Community Center (itallhappenshere.org) has a play gym with a bounce house and toys. Free coffee is provided for adults. Pattison's West Skating Center (pattisonswest.com) is a roller skating option if you really want to get the wiggles out. Once she gets the hang of it, your kiddo won't want to stop.
Outdoor Adventure
So there is a break in the clouds and the sun is beckoning you outside. Wild Waves Theme Park (wildwaves.com) will give your little fella lots of thrills with rides (dry and wet) just for him. Kiddie Land is a whole section dedicated to the littlest people with kiddie boats, safari jeeps, coasters and frog hoppers. For a more natural adventure, Dash Point State Park (no website; 5700 SW Dash Point Road, Federal Way; 253-661-4955) features campsites, picnic areas, beaches and hiking trails. Steel Lake Park (no website; 2410 S. 312th St., Federal Way; 253-835-6964) offers playgrounds, open space, picnic areas and a walking trail.
Sports Programs
If you have a tumbler in your midst, The Little Gym (thelittlegym.com) provides an outlet for such activity. The gym offers parent and child classes for 2- to 3-year-olds which help kids reach important developmental milestones, and gymnastics classes for 3- to 5-year-olds are also offered. The Federal Way Community Center offers soccer classes for 2- to 5-year-olds. At the indoor soccer field kids will learn basic skills and be challenged with real game situations.
Educational Programs
The King County Library (kcls.org) has story times for toddlers and preschoolers year round. While there, check out a picture book or two. The Federal Way Community Center offers a number of educational classes for preschoolers including math, science, art, music and cooking. La Petite Academy (lapetite.com) offers classes for toddlers and preschoolers aimed to develop critical milestones.