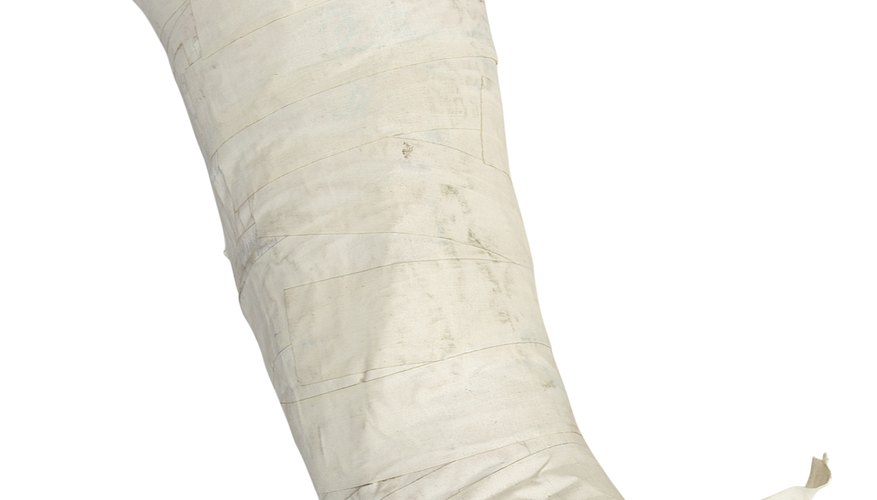 If your child has a clubfoot, as one in 1,240 American newborns do, according to the Cleveland Clinic, you might worry about his ability to walk at a typical age -- anywhere from nine to 16 months, Dr. William Sears says on his website. In most cases, having a clubfoot deformity at birth doesn't delay a child's walking at all, as long as he receives proper treatment from birth. Frequent cast changes gently guide the malleable newborn bones into the proper position; while surgery was frequently required to repair clubfoot previously, that's no longer true.
Casting
The Ponseti method of casting can correct a clubfoot deformity in around six to eight weeks, according to the American Academy of Orthopaedic Surgeons. However, to keep the correction from recurring, your child will need to wear a bar attached to shoes to hold the correction in place 23 hours per day for another three months, followed by another three months of decreasing time in the brace. He may have to wear the brace at night up to age 4 to 5, according to the Ponseti International website. While he's in casts or in the bar for extended amounts of time, he won't be able to walk. But wearing the brace won't cause developmental delays, Ponseti International reports.
Surgery
In around 5 percent of cases, children with a clubfoot have defects too severe for casting alone to repair; they will need surgery. The best time for surgical repair is between age 6 to 12 months, Columbia Orthopaedics explains. Early surgery may help prevent scarring while still taking advantage of the rapid growth and remodeling potential in the first year of life. Early surgery also results in less delay in learning to walk near the proper developmental age. After surgery, casting will prevent walking until the casts are removed.
Type of Defects
The type of defect a child has can affect when he starts walking. Around 50 percent of children have bilateral clubfoot, the Cleveland Clinic reports. In some cases, clubfoot is caused by disorders such as spina bifida, where damage to the spinal cord can lead to limited movement or paralysis. Fixing the clubfoot won't allow a child to walk if he has another condition that interferes with his lower limb function.
Walking Problems
If your child receives timely and proper treatment and has idiopathic clubfoot, meaning he has no other associated conditions, he will probably walk at a normal age. Most children with clubfoot walk normally and can participate in sports after treatment, according to Columbia Orthopedics. The most common abnormalities noted in adults who had clubfoot surgery in infancy were mild to moderate restriction from pain, ankle weakness and reduced range of motion in the foot and ankle, a June 2010 "Journal of Pediatric Orthopedics" study found.