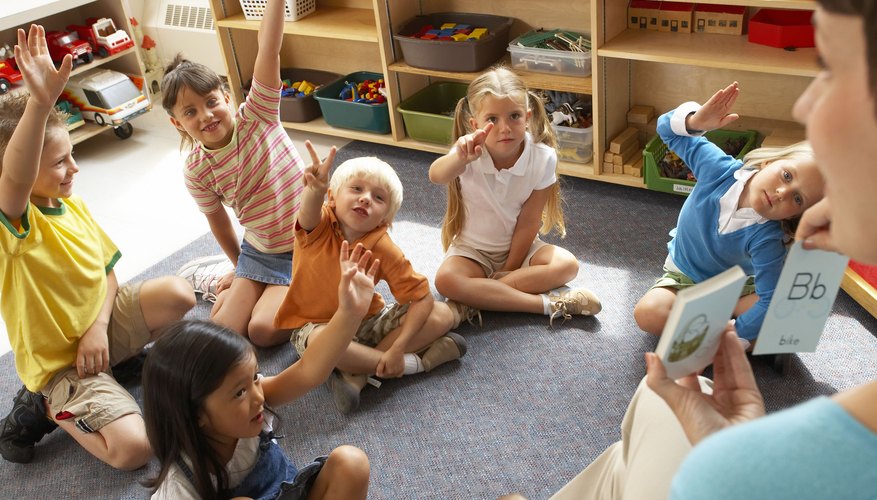 Teachers and parents contribute to children's academic success when they forge a meaningful partnership. A vital component of the partnership is parental involvement in the classroom, but some parents need encouragement to take the first step that leads to the classroom. Teachers can promote parental involvement with strategies that validate the importance of parents contributing to their child's education.
Share Positive Feedback
When interaction with their child's school consistently conveys negative information, parents experience little incentive to become involved in the classroom. It's not surprising that parents are likely to avoid scenarios linked to stressful outcomes. The National Education Association recommends that teachers call parents to share positive feedback related to their child's progress. For example, "Marquez helped a new student make friends on the playground. I am so proud of him!" Sharing small successes opens larger windows of accessibility to parents who might have believed there was no reason to become involved in their child's classroom.
Accommodate Busy Schedules
Encourage parental involvement in the classroom by acknowledging that many parents struggle with the time constraints that one or more jobs, extracurricular activities and family responsibilities place on their crowded daily agenda. For example, invite parents to eat breakfast or lunch with their child. The National Association for the Education of Young Children reports that parents are more likely to attend conferences when teachers offer a variety of scheduling options.
Enlist Support From Bilingual Parents
Immigrant parents who want to embrace classroom involvement with enthusiasm face obstacles to participating in their child's educational journey. Parents who struggle with English might lack the self-assurance needed to ask questions and share concerns. The language barriers contribute to feelings of isolation and reticence to become involved in the classroom. However, enlisting help from a bilingual parent who supports parents in the transition to the new school setting increases the likelihood of classroom involvement. Bilingual parents also encourage parental participation by serving as interpreters at school events and translating written communication from the school.
Schedule Home Visits
Planning a home visit can reach reluctant parents who don't respond to telephone calls and more conventional forms of communication. Home visits not only provide teachers with a golden opportunity to team with the parent to collaboratively design a plan for academic success, but also permit teachers to observe the home's influence on the child's academic success. For some parents, a home visit can build a bridge that validates the importance of team membership, and motivate parents to travel the bridge all the way to the front door of their child's school.