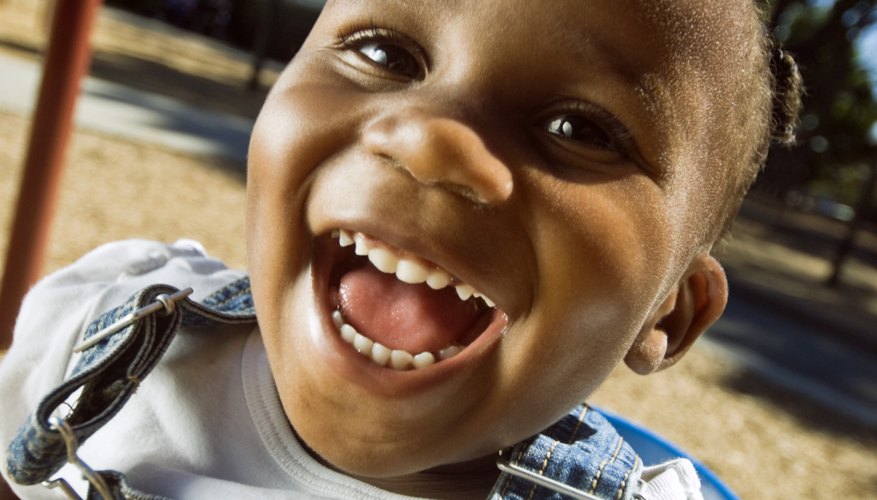 Kids Health reports that over 200,000 emergency room visits each year are directly related to injuries sustained at a playground. If you want to avoid contributing to this alarming statistic, educate your toddler about playground safety. It can be hard to find a way to introduce this concept in a way your child will understand, but with the proper techniques, your child can stay safe and enjoy playing at your favorite playground.
Read a book with your toddler that introduces the importance of safety at the playground. For example, you could read Margery Cuyler's "Please Play Safe! Penguin's Guide To Playground Safety." After the story, talk about the specific safety precautions Penguin and his friends used to have an enjoyable but safe experience at the playground. Ask your toddler open-ended questions like, "How will you stay safe the next time you play at the playground?"
Visit a playground with your toddler for the sole purpose of striking up a conversation about its safety. Watch the other children play and ask your toddler to point out kids who are being safe and kids who are not. Do not forget to discuss the importance of stranger safety if you plan to let your toddler play at a public playground. You can also model safe ways to play for your child.
Use your toddler's favorite stuffed animal or doll as an age-appropriate way to introduce playground safety. Pretend that Teddy is headed to the playground with his friend and use him to act out safe playground practices. For example, you might have Teddy wait in line patiently as his friend Dolly slides down the slide. This reinforces the idea that only one child should use the slide at a time.
Introduce the importance of water safety using a book like Dana Meachen's "Water Safety." With more and more playgrounds including water features in their design, don't forget to introduce this crucial safety topic. The use of a fun and entertaining book gives your child pertinent information in a way that keeps him interested in material that otherwise may not be exciting.
Print off or copy black and white coloring pages of various playground equipment like swings, slides or ladders. Give your toddler child-safe crayons or markers and ask her to color the various equipment. As she colors the swing, remind your toddler that she needs to ask an adult to help her get in and out of the swing to stay safe.
Tip
Always supervise your toddler while he plays at the playground, even if it is in your backyard. Even though a playground provides great entertainment for your little one, there are many opportunities for your child to hurt himself during play.