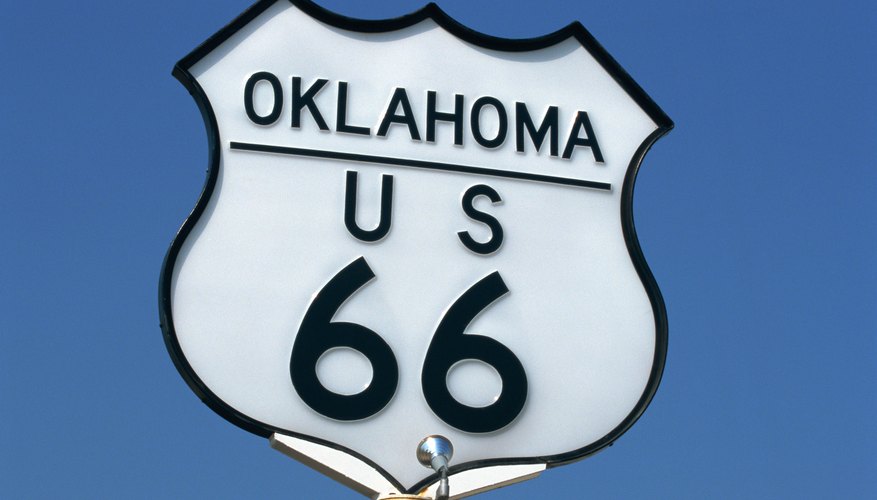 Oklahoma is a popular destination for an inexpensive and fun family getaway because of its unusual entertainment options and its proximity to several large metropolitan areas. The Sooner State has 35 state parks -- all free to the public -- for nature lovers. The renowned Route 66 meanders through the state and is home to many memorable shops and museums. Oklahoma's rich American Indian culture has created many educational opportunities throughout the state, many of which are inexpensive or free.
Camping
Consider one of Oklahoma's many campgrounds if you are planning to stay overnight, have camping gear and want inexpensive accommodations. Tent-campers can stay at Lake Eufaula in a primitive camping slip with electricity for $11 per night, while upgraded slips with more advanced bathrooms cost $18 per night, as of the date of publication. KOA Kampgrounds operates furnished cabins near Oklahoma City and other areas for under $70 per day for up to four people. These cabins do not include bed linens, but they are dry, clean accommodations at a reasonable price within a short drive of many activities in Oklahoma.
Water Sports
Pensacola Dam, the world's longest multiple arch dam, is on Grand Lake and offers free tours. The 46,500-surface-acre Grand Lake is home to many beaches and water sports rental companies along its 1,300-mile-long shoreline. Swimming, licensed fishing and boating are free on Grand Lake, as of the date of publication. Beavers Bend State Park, on Broken Bow Lake and the nearby Mountain Fork River, boast scenic views and free fishing opportunities for the anglers in your family who own a fishing license.
Free Museums
Visit one of the many free or inexpensive museums in Oklahoma in your getaway. The Gene Autry Oklahoma Museum, north of Ardmore, includes a large collection of movie memorabilia, Western items and collectibles. The Route 66 Vintage Iron Motorcycle Museum, near the Missouri border in Miami, includes a 2,000-square-foot gift shop and a large collection of motorcycle collectibles including a growing Evel Knievel collection. The Fred Jones Jr. Museum of Art, in Norman, has 16,000 pieces of art, including American Indian items and works by Vincent van Gogh and Georgia O'Keeffe. Oklahoma, which is located in Tornado Alley, is also home to the Twister Museum. This museum, in Wakita, displays props and other items from the movie "Twister," including the original "Dorothy 1" tornado testing gear.
Other Inexpensive Activities
The Oklahoma City National Memorial, on the site of the 1995 bombing of the Alfred P. Murrah Federal Building, is home to a dramatic display that honors those killed in the blast. Many visit Oklahoma by car to retrace the Historic Route 66 highway route and its many vintage shops and diners. Visit Tulsa to see the Tulsa Garden Center, which is free to the public, and the Tulsa Zoo and Living Museum. The Jasmine Moran Children's Museum in Seminole , is an interactive museum that includes a 12,000-square foot Castle Maze. Visit the Myriad Botanical Gardens in Oklahoma City for $6 for adults and $3 for children, as of the date of publication. This destination also offers free twilight summer concerts.