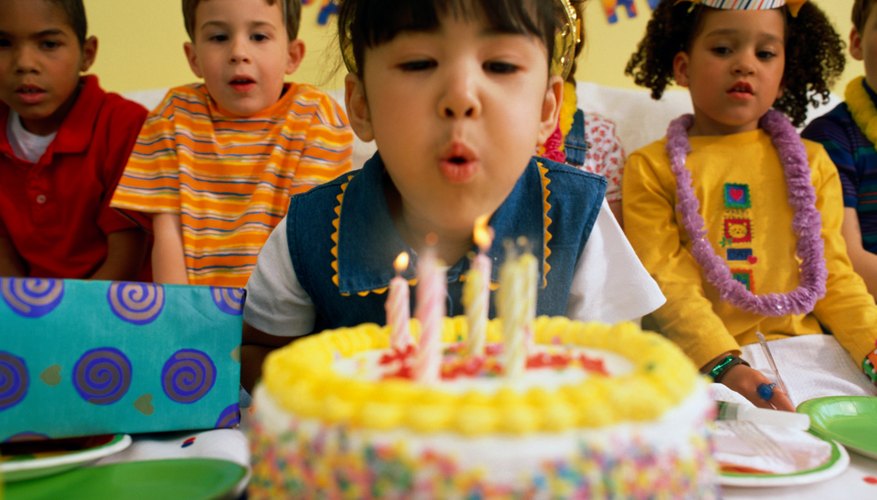 Saint Paul, Minnesota, provides visitors and residents with a laid-back atmosphere amid the big city. As the other half of the Twin Cities and the state capital, Saint Paul and its surrounding suburbs have several indoor playground options for birthday parties. No matter what the temperature is outside, you have many choices when making the all-important party-location decision.
Aquatic Playgrounds
The city of Saint Paul operates a few indoor aquatic centers that have play structures and water park fun. The Great River Water Park features small water slides for little kids, larger slides for the older kids, rope climbing elements, a diving board, lap pool and many other water play toys. The facility rents out a party room with a swim, cake and ice cream package as well as a larger package that adds in a meal. Highland Park Aquatic Center also provides party packages. It has an aquatic climbing wall, two-story water slide, drop slides, splash pad and diving boards.
Amusement Rides and Game Centers
Just 10 miles from downtown Saint Paul in Woodbury, you will find Wooddale Fun Zone. It has three main zones -- a roller skating rink, a soft-play play structure for kids 10 and under and a video arcade center. It offers birthday packages that pizza, a party table and paper products. You can choose from which zone to have access, or take the package that opens up all three. With a location in West Saint Paul, another option is having a party at Chuck E. Cheese. Its party package includes a visit with the mascot, game tokens, pizza, a goody bag, ice cream and cake.
Themed Playgrounds
The city of Woodbury operates the Lookout Ridge Indoor Playground. It is filled with lifelike forests, caves and other nature elements. Kids can enjoy the mountain slides, tree house and cliff climbing. The facility will host your birthday party, taking care of the food and drinks. Eagle's Nest Indoor Playground is in New Brighton, 14 miles north of Saint Paul. It has slides, climbing walls, foam pits and ball pits all in a outdoor, nature theme. Party packages include party favors, a private room, balloons, cupcakes and decorations. Several packages are available, making it easy to find the one just right for you.
Playground with Inflatables
Monkey House in White Bear Lake, 8 miles from Saint Paul, provides numerous inflatable toys, including bounce houses, slides, jousting games and obstacle courses. For your birthday party needs, it provides invitations, private use of the facility, a party room, pizza, fruit punch, decorations and a party host. Club Just Jump is also a possibility, located 10 miles from Saint Paul in Woodbury. There you will find several party packages from which to choose, providing bounce houses, obstacle courses and all kinds of other inflatables.