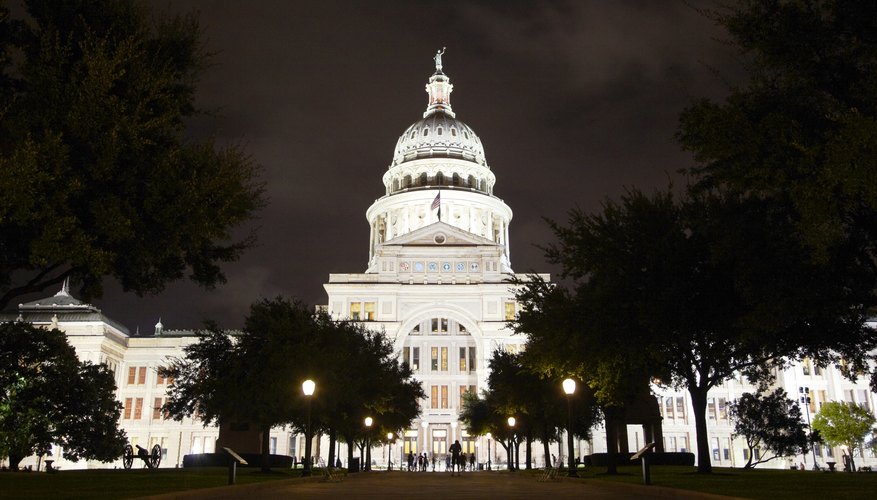 Austin, home to more than 842,000 people, according to the 2012 U.S. Census estimate, is the capital of Texas and sits along the Colorado River. Residents of this bustling city have a range of entertainment options to choose from and families of preschoolers will find a variety of both indoor and outdoor activities to enjoy with their little ones, ranging from days spent enjoying nature to time playing at a museum.
Museum or Zoo Activities
At the Bullock Texas State History Museum, your preschooler can explore exhibits that tell the story of the state's history. You can also participate in an array of family programs at the museum, such as TEXploration Family Story Time, Spooktacular for Halloween, the Austin Insect Rodeo and the Bullock Goes to the Dogs. The Austin Zoo and Animal Sanctuary is home to more than 350 animals from 100 species. Tour the zoo with your preschooler to check out all of the exciting animal displays, take a ride on the Rawhide Rocket train and participate in weekly activities such as storytime and Toys for Animals.
Parks and Recreation Activities
The Austin Parks and Recreation Department has lots to offer preschoolers and their families. Pick a nice day and take your little one out for some playtime at one of the city parks. Dick Nichols District Park covers 152 acres and has picnic areas, a swimming pool, bike trail and large playground with a play area just for smaller children. Brushy Creek Lake Park sits on 90 acres and features a playground, wildlife viewing area and splash pad. Your preschooler could also participate in one of the programs offered at the 20 recreation centers throughout the city, including karate, sports, day camps, gymnastics, dance and art programs.
Inflated Play Spots
When you need somewhere indoors to let your preschooler burn off some excess energy, you can visit one of the city's indoor playgrounds. Inflatable Wonderland offers open play times, where your child can run, jump and play the day away. Or, you could visit Loco-Motion Inflatable Play, where you'll find 12,000 square feet of play area with inflatables. During open play, your preschooler can jump in the ball pits, climb, slide and bounce.
Kids Amid Nature
You can take your preschooler to the Austin Nature and Science Center to enjoy some hands-on nature activities. Inside the center, you'll find educational exhibits, including a dino pit, wildlife exhibits and workshops. Nature's Way Preschool is an enrichment program where your little ones can experience nature and interact with other children. A summer camp program is also offered for little ones with themes including Dinosaur Detectives and Wacky Water. At the McKinney Falls State Park, you and your preschooler can take a hike and check out the wildlife. During the summer, you can check out a Junior Ranger Explorer Pack from the ranger station for free. Inside, you'll find an animal tracking key, sketchbook, magnifying glass, binoculars and a journal to record what you see along the trails.