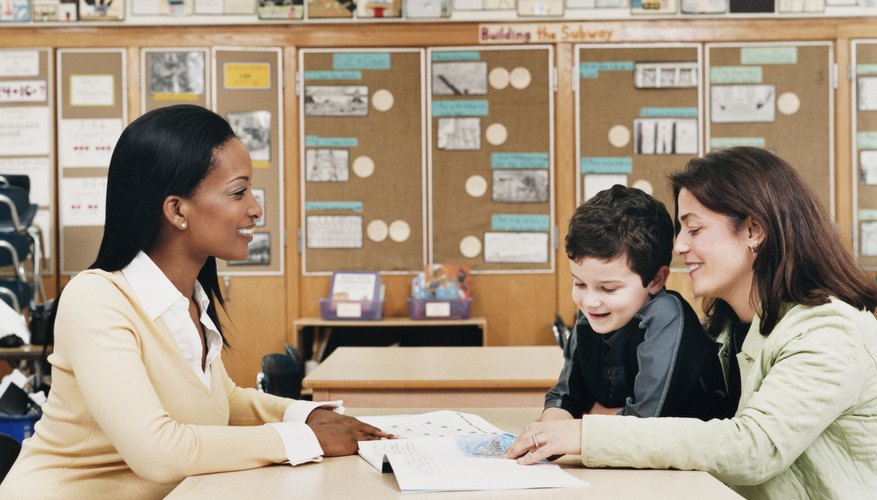 In preparation for the first day of kindergarten, many schools will hold a kindergarten parent orientation to ease any anxiety families may feel during this important educational transition. Your child's future elementary school may provide you with printed literature about the program, but attending this meeting will give you a direct opportunity to meet the faculty and parents, check out the classroom and learn about the role you play in your child's education.
Get to Know the Faculty
Kindergarten is an exciting transition for children and parents, but also a scary concept. A kindergarten teacher is someone who will guide your child through learning and provide any support that your family needs throughout the year. Take a notepad with general questions that you can ask your child's teacher. Be prepared to meet other individuals that will become an important part of your child's life, such the principal, the assistant principal and enrichment instructors.
Meet the Families
Building friendships is a pivotal aspect of your child's early years. It will teach him how to work with others, as well as how to communicate, develop stellar social skills and nurture self-confidence. Walk around with your family at orientation and introduce yourself to others. Ask friendly questions, such as their child's name, their likes and dislikes and whether they are excited to begin kindergarten. Make sure you pick up a contact list of all the families in your child's kindergarten class. If the teacher has not provided one yet, create your own by taking a notebook and asking others if they would like to start a phone tree for play dates.
Learn About the Classroom
Each kindergarten class will be different, depending on the personalities and education style of the teacher. However, each state has learning standards that must be met for specific age levels, so it is a good idea to do your research before going to orientation to get an idea of learning expectations. In addition to the curriculum and developmental milestones, you will hear about the school year calendar, enrichment classes and important kindergarten events, such as assemblies and family fun nights. Walk around the classroom and check out bulletin boards, learning centers and books. Becoming familiar with your kindergartner's classroom will make it easier for you to be involved in his learning experiences.
Your Role as a Parent
Education does not stop at the end of the school day. As a parent, you have as much as responsibility as the faculty to continue learning experiences at home. Ask for information about volunteering for the PTA, attending field trips or becoming a classroom assistant. Being a proactive parent will set the tone for the rest of your child's school years, so keep the communication open with the teacher. Additionally, keep your child's teacher updated about family situations, difficulties and accomplishments. Being on the same page will only benefit your child's kindergarten experience.