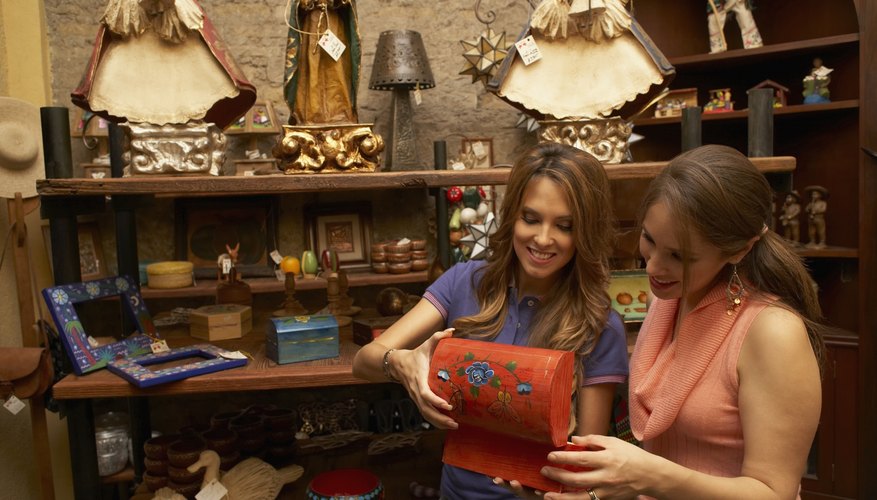 Ideas for teen treasure boxes are as close as your craft box. You can give new life to old cigar boxes, shoe boxes, wooden boxes and plastic containers. Turn any of these containers into the perfect box for your teen. Make the box yourself or enlist the help of your teen to create a cherished keepsake.
Decoupaged Treasure Box
Make a small treasure box from a cigar box. The lid fits flush with the sides of the box which provides a flat surface easy for decorating. Select a group of pictures or photographs from your favorite photos or magazines. Cover one side of the cigar box at a time until all sides are covered. Attach the pictures to the surface with white glue. Brush three coats of decoupage solution over the entire surface. Allow ample dry time between layers.
Fabric-Covered Treasure Box
Make a fabric-covered treasure box from a shoe box. Select a cotton or denim type fabric for easy manipulation. Measure each area and cut a piece of fabric to fit. Cover the back of the fabric and the box with spray adhesive. Allow the adhesive to rest three minutes. Press the fabric pieces to the shoe box. Allow the adhesive to dry 15 minutes. Attach gold roping around the edges. Add other adornments if desired.
Distressed Treasure Box
Make a distressed treasure box from a new or old wood box. To distress the box, place such items as small chains, nails, screws, nuts and bolts on the surface. Tap the item with a hammer to create an imprint in the wood. Continue the process over the entire surface. Paint or stain the box. While the paint or stain is still wet, wipe the surface of the box to create an antique look. Hot glue flat rhinestones to the surface.
Sparkling Treasure Box
Make a sparkling treasure box with any type of box. Glue flat-backed rhinestones, mirror tiles or glass beads over the entire surface. Create a design with different colored rhinestones or glass beads.
Translucent Treasure Box
Make a translucent treasure box from a clear plastic box. Paint the entire outer surface of the clear plastic container with acrylic glass paint. Place the painted container in a sunny window for two days. The heat from the sun will harden the paint so it will not flake off the container. Hot glue flat rhinestones to the surface.