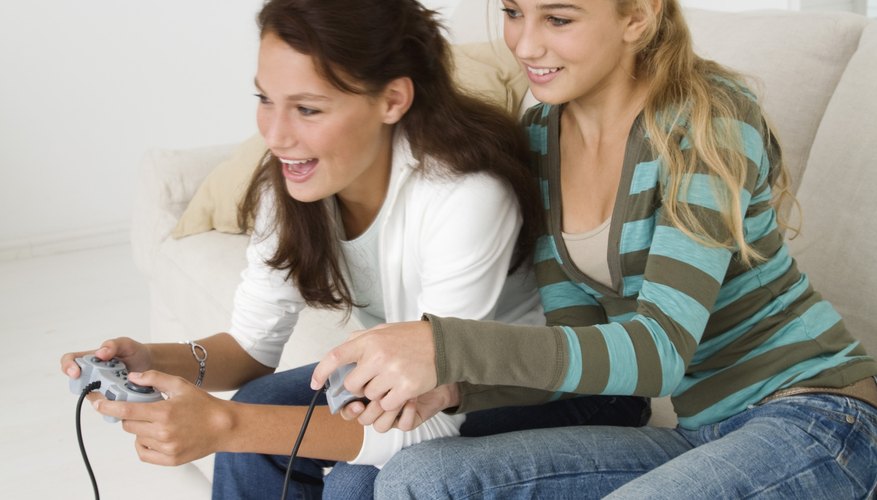 Teen rec centers give kids the opportunity to participate in healthful activities during times when they would otherwise be unsupervised. The critical element of a successful rec center is making it a place where teens want to go. The center needs to have equipment, activities and opportunities that interest teens.
Education
For kids who need a little help in the academic department, homework assistance and tutoring can be a blessing. Businesses might be willing to donate some old computers to set up a computer lab for teens to use. A literacy coalition might be able to help kids who are behind on their reading, and an in-house library can encourage the teens to read.
Media
Install a projector and they will come. Advertise to teens that a large projector or a few flat screens are available for them to watch movies, cable or play video games. A karaoke machine can give aspiring singers and musicians the opportunity to show off their musical talent.
Community Service and Work
Teach kids the opportunity to foster their careers or help out the community. Consult with community colleges or trade schools so you can offer opportunities for teens to get certificates of completion for future careers. Leadership training is another way to provide this opportunity for them. Set up some community service projects, such as cleaning up the neighborhood, helping elderly neighbors or making a community garden, and give the teens opportunities to do the volunteer work in exchange for your acknowledgment of these hours on their college applications.
Classes
Get teens excited about the rec center by offering a variety of classes that interest this age group. For example, include classes on web production, guitar, dance, cooking, fitness and disc jockeying. Add athletic classes to the mix, such as basketball class, golf lessons and swimming. Classes that teach how to make video games or homemade movies might also interest teens. Creative teens might be interested if the rec center offers painting, pottery or creative writing classes.
Theme Activities
Plan a schedule of events with teen-friendly themes, such as a video game tournament or talent show. A movie night is complete with a current hit and popcorn. A ping-pong tournament or foosball competition are other options to keep them busy. Get some more ideas from the teens in your neighborhood to see what they are interested in.
Field Trips
If it's financially possible and enough supervision is available, having routine field trips can be an incentive for kids to visit the rec center. Outings can include going camping, kayaking, rock climbing and ice skating. Teens might have limited access to cultural activities, so the rec center might be their only way to see a performing arts production or visit an art museum.