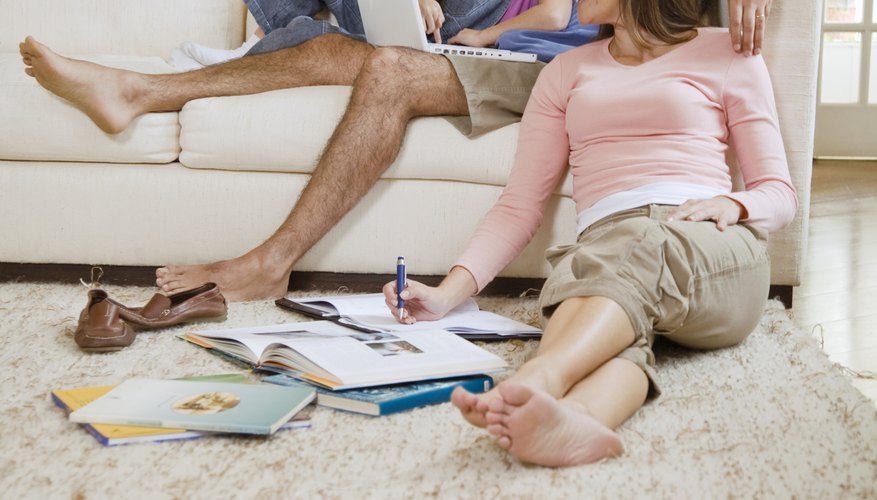 Decorating a 5-year-old's room can be fun and exciting. It can also be stressful and frustrating, if your ideas don't line up with the ideas of your child. To ensure that everyone ends up happy, talk to your daughter before going on a spending spree for items she might not even want. You might want to let her choose most of the stuff for her room or just give you a general idea of a color or theme she wants.
Consider Long Term
The whims of kids can change quickly, so think long and hard before agreeing to paint every surface in the room dark purple or anything else that might be just a trend and will be hard to change later as her tastes change.
Painting
Paint the bedroom in her favorite colors or paint the room a neutral color such as white, pale yellow or pink, and add more dramatic accent colors. For example, cream-colored walls go with baseboards and window trim in bright green, hot pink or purple. This gives a bit of style without going overboard and making other people nauseated when they walk in the room.
Bedding
Sheets and bedspreads can be fun to pick out, and because these require less of an investment of time and money, you can really let your little girl have her say in choosing. Bedding can be plain and in her favorite color, or have designs such as butterflies, teddy bears or her favorite television or movie character. If you've gone ahead and painted the room in wild colors, consider getting more plain bedding to offset that or use more colorful and wild themes for bedding if the paint job is plain.
Artwork
Depending on your budget and your child's preference, you can go a variety of ways with adorning her bedroom walls. Plastic wall decals are inexpensive, easy to apply and remove, and come in many themes. You can also get framed prints of your child's preferred character or, if she has a favorite nursery rhyme or song, you can have the lyrics printed out and framed to hang for a special, personal touch. If you have either a big budget or some artistic ability of your own, another option is to create a mural on your little girl's wall. Again, only do this if you have a high tolerance for the fickleness of small children and won't be offended or upset if a year from now, your little darling begs you to paint over your own hard work.