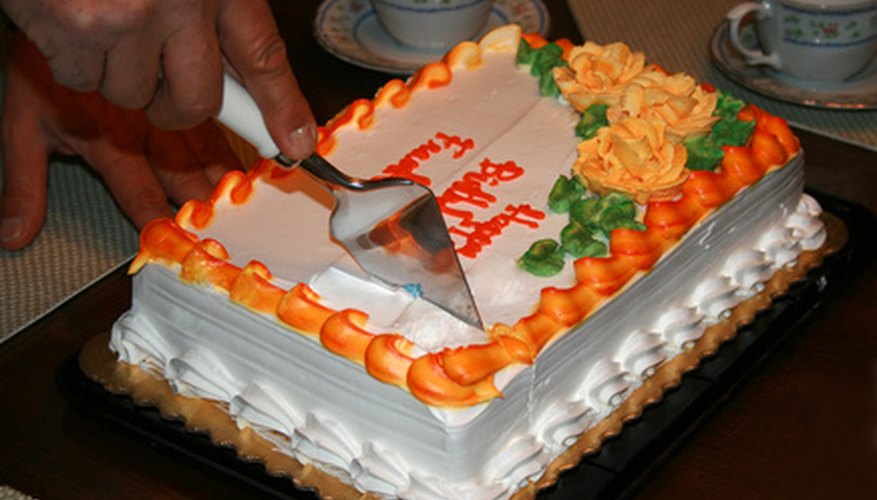 Birthday cakes play a central role when it comes to kids' parties. Deciding to make a birthday cake and how to decorate it can be a difficult decision. However, it can also be highly rewarding to create a cake that lights up your child's face. Making a homemade cake is more affordable than purchasing one at a bakery, as well.
Consider what type of cake would be best for your kid's party. Cupcakes are a great choice for a party at the park, since no plates or utensils are needed. Ice cream cakes are fun in the summer, and sheet cakes can be decorated with toys or cut into fun shapes.
Choose a flavour for the cake and frosting. Ask your child what his favourite is and run with it. White frosting is easiest to decorate, but if your kid really wants everything chocolate, get creative and find ways to top the brown frosting.
Find a theme for the party. Ask your child what the theme should be, as most kids from toddlers on up have something that they are passionate about. Use the theme to decide on cake decorations. Draw a decoration onto the cake with candy and embellish it with icing, or place small toys on it that can double as gifts.
Bake the cake a few days ahead. Wrap each layer individually in cling film and keep it in the refrigerator or freezer. Frost it the day before or the day of the party. This will save you time and still allow for a fresh, homemade cake your kids will love.
Allow your kid to help make the cake. This way your child will have a cake that looks and tastes just the way she wants it to. You will also create wonderful, happy memories, and nothing tastes better than that.
Tip
Save yourself some unnecessary work. Use cake from a mix and store-bought tubs of frosting. A homemade cake does not have to be from scratch.
Warning
Avoid using peanuts or peanut butter in your birthday cake for a kids' party. Many children are allergic to peanuts.