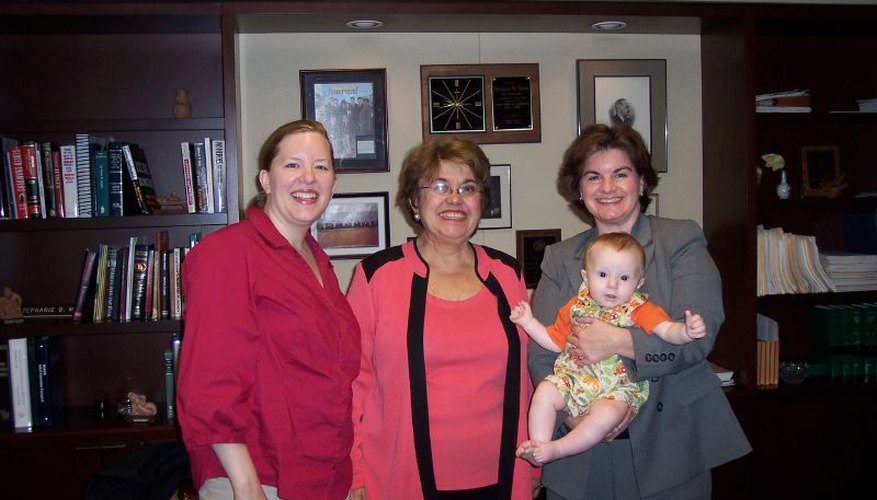 The biological connection between siblings is well documented. Most adoption agencies seek to keep siblings in the same family when they are adopted. In some situations, though, siblings are separated. It occurs frequently when one sibling is born after the birth mother is ready to play the role of mother. Finding adopted siblings requires lots of determination, but success is often obtained by those who are meticulous in their search.
Interview family members and anyone else who was around at the time of the adoption for information on your sibling's adoption. Take notes. Ask for the names of the adoptive parents, when the adoption occurred and where the adoption occurred.
Establish when and where your sibling was adopted. Find out any dates and ages.
File a request for information in the state where your sibling was adopted. The Child Welfare Information Gateway provides a publication that features a summary of state laws pertinent to adoption searches. It includes a list of agencies to contact for every state (see Resources).
Find out whether an adoption agency was involved. The state might supply this information, or you might obtain it from a family member.
Contact the adoption agency and ask for any available information on your sibling's adoption.
Register with organisations that help to reunite adopted children with birth relatives. Both birth relatives and adoptees can register with these organisations to express interest in reuniting. Adoption.com contains a list of over 400 reunion registries you may find helpful (see Resources).
Identify where your adopted sibling might live. Check court documents in surrounding counties and search online for any mention of a relative in a marriage announcement or obituary.
Search for your adopted sibling by checking online white pages listings. Check Facebook. Millions of people are registered at the site under their own names.
Make a list of contact information for each person who shares your sibling's adopted name.
Contact all of the individuals on your list. Explain who you are and what you are attempting to do. If your adopted sibling has a unique last name, you might be able to gain information by contacting other individuals with the same last name. They might be the adoptive parents, or they might be somehow related to the adoptive parents.
When all else fails, hire a private investigator. Some specialise in finding birth relatives. Ask about his experience in the field.
Tip
Married women often register on Facebook and on class reunion sites under their maiden names. Check wedding announcements in newspapers and online when searching for a sibling whose last name might have changed after marriage. Check the Social Security Death Index for siblings who are deceased.
Warning
Some adopted siblings might not want to establish contact with their birth relatives. Be prepared for disappointment. Some siblings do not meet your expectations, and some are never located.