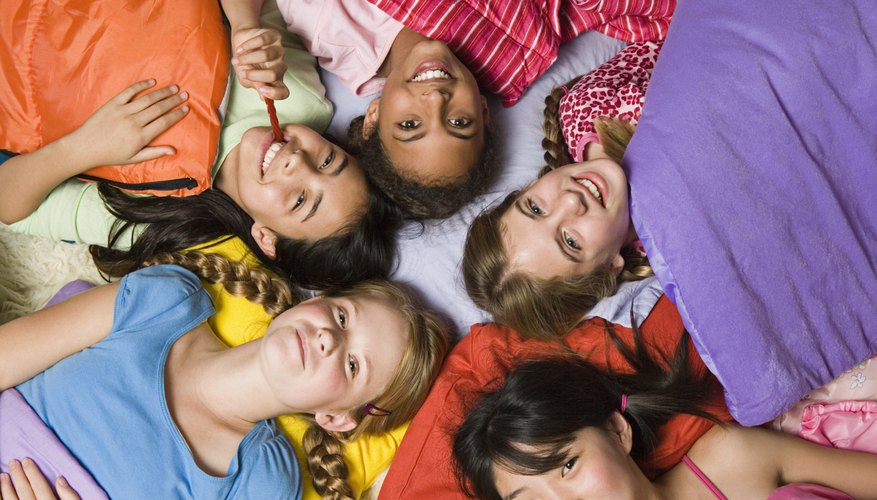 By the teen years, you shouldn't need to worry about homesick sleepover guests, but you may deal with noise, pranks, gossip and boredom. The planning phase is key to organizing the entertainment for your teen's slumber party. She will likely want to have a hand in all of the party planning so that all of the details fit her personality. If you're facing a house full of teens for an overnight party, load up on snacks, games and activities to keep them entertained -- and to save your sanity.
Schedule the slumber party on a night when the teens don't have school the next day. Also, review your calendar to ensure you don't have any other commitments the following morning. The guests are likely to stay up late -- if they sleep at all.
Set ground rules for the sleepover so the teen don't get out of control. The rules are meant to keep the guests safe and may include not leaving the house, staying out of chatrooms or other potentially dangerous websites and going to bed by a certain time.
Choose the maximum number of guests and stick with your limit. The number should depend on your personal preference and the amount of available space. A large group may result in arguments or cliques as well as high noise levels and the need for more food than you have prepared for.
Sit down with your teen to get her input on the party details. Help her create a guest list that stays within your limits and your budget. Brainstorm activity ideas and make a food list together. Take notes as a reference when you're finalizing the details.
Gather contact information for each guest's parents in case an emergency arises. Make contact with the other parents before the sleepover if possible to discuss the details and ground rules you set.
Plan activities to keep the teens entertained. Ideas include home spa treatments, manicures, makeovers, movies, games and crafts. Use your teen's requests as a guide when planning the activities. Gather the materials necessary for the activities, but don't plan on actually leading the group through the steps. Your teen won't likely want you in the room during the sleepover.
Offer food the teens can grab on their own. A buffet-style presentation of food gives the teens variety and easy access. If the teens cook themselves, stay nearby to supervise to avoid kitchen fires or burns.
Tip
Since your teen won't likely want you hovering, find a spot near the sleepover activities so that you are still in the area without invading privacy. Peak in occasionally to check on the teens.