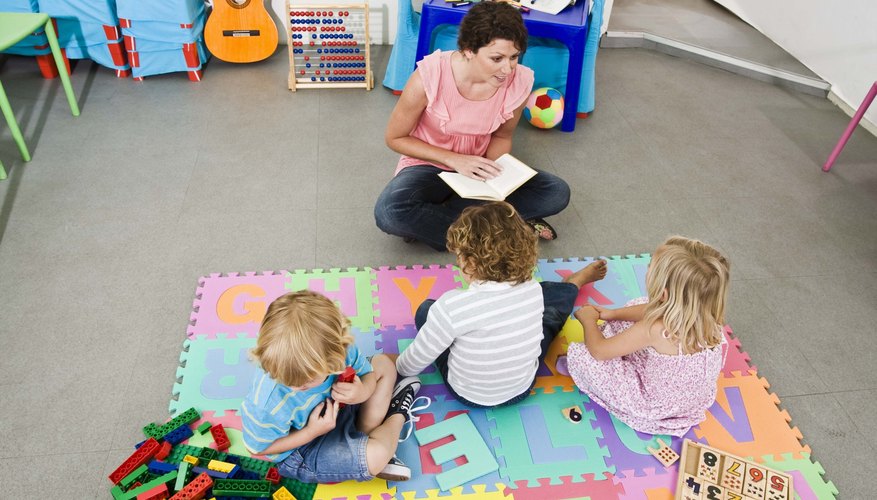 A kindergartener who recognizes high-frequency words is better able to master reading with fluency. A variety of activities expose a young child to those words they most frequently see in text. By varying the approach, kids see the words under different circumstances for better mastery.
Word Wall
Word walls are often used in the kindergarten classroom to keep high-frequency words visible at all times. The wall also reinforces the idea of alphabetical order and letter recognition. If your child's classroom has a word wall, you'll likely see a variety of words organized by first letter. According to Scholastic.com, teachers can use word walls effectively by prompting students to use them for spelling and incorporating the word wall into daily activities. You can make your own word wall at home for extra practice at the kindergarten sight words. Write words that come up frequently, such as "I," "you" and "the" and post them on the wall in your child's bedroom or playroom.
Games
Using the sight words in a game format allows your kindergartener to interact with the words repeatedly. A simple matching game with sight words instead of pictures works well. Make your own with index cards. You can add the sight words to games you already have. For example, tape cards with the words on the circles of a Twister game mat. As your child plays, she has to say the word in each circle she uses. For an outdoor game, write the high-frequency words in sidewalk chalk inside circles. When you call out a word, your child runs to the circle with the matching word.
Reading
Reading activities allow your kindergartener to see the high-frequency words in action. She hears the words each time you read the text. Point out the words after reading a page so she sees them in addition to hearing them. For books with simple text, point to the words as you read so your kindergartener can read along with you. Emphasize those high-frequency words, or ask her after each page whether she heard any of the words you've been practicing.
Building Words
Seeing the high-frequency words is helpful, but physically creating the words can help reinforce them in your kindergartener's mind. Plastic letter magnets work well for creating words. Print the words you want to practice on index cards. Your child arranges the letter magnets in order to create the word herself. If you don't have letter magnets, cut little squares of paper and write letters on them. For a hands-on approach, squirt shaving cream on a cooking sheet so your child can write the word in the cream with her finger. For a less messy approach, have your child shape rolled play clay into the letters of the word.