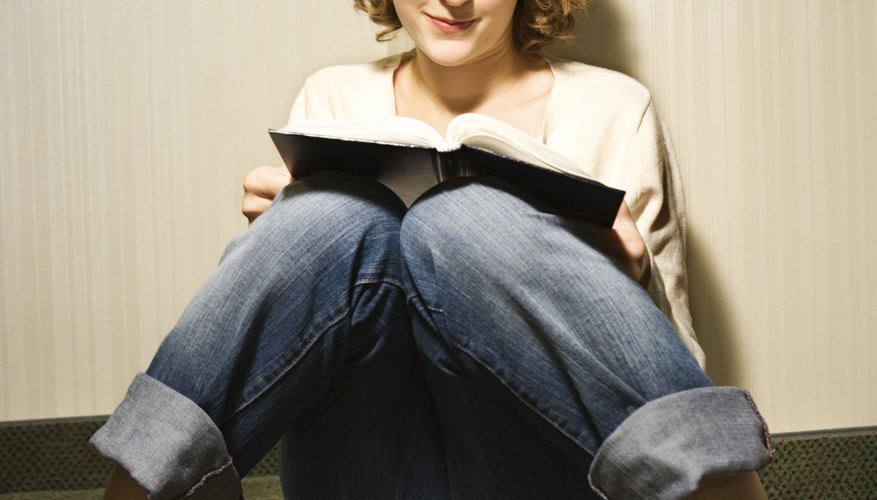 As a parent, one of your main jobs is to instill a sense of responsibility in your children. However, you also want your teen to branch out and seek new ideas, experiences and ways of viewing the world. Help you teenager safely break free of the crowd by finding enjoyable and fulfilling ways to think outside the box.
Take a Course Together
Bond with your teenager while you both expand your horizons by enrolling in a four-year or community college course together. Find a topic that interests you both, but is outside your present sphere of knowledge. For instance, if your teenager is interested in sports, take a course on film history or Italian literature. If he's more interested in film and TV than anything else, broaden his view of the world by attending a pottery class together. Aside from taking your teenager out of his comfort zone, this class should also be something that will engage him enough to keep him interested for several weeks. For younger teens, several community centers and universities also offer shorter courses and workshops.
Volunteer
Instead of allowing your teenager to spend his weekends hanging at the mall or lounging in his bedroom, encourage him to make a difference through volunteer work. Visit a church or other charitable organization to determine the volunteer opportunities available. Your Humane Society chapter, zoo or city park might require an extra set of hands. Whatever you decide, don't make volunteering a punishment. Instead, help your teenager view it as a way to understand his role in creating a better society. Volunteering after a natural disaster is another option. If your teenager is visibly affected by a hurricane, flood or other disaster, encourage him to volunteer his services to people in need.
Discover a New Hobby or Passion
Many teenagers are exposed to a passion or hobby they find enjoyable early in life, and continue this pursuit well into their adolescence and even adult years. Broaden your teenager by helping him discover a new passion, hobby or pursuit. For instance, encourage your sports fanatic to take up a musical instrument or try his hand at painting. If your teenager is skilled with a paintbrush already, encourage him to try out for the drama club. Work with your teenager to discover a hidden interest or talent he hasn't exhibited yet.
Travel
Change your teenager's perception about the world by exposing him to other cultures. If possible, pack your bags and enjoy an adventure in a far-off land as a family. Signing your teenager up to spend a semester or even year abroad through a school-sanctioned program is another option. Whatever you choose, encourage your teenager to discuss his views on how young adults live and interact in places other than his own.