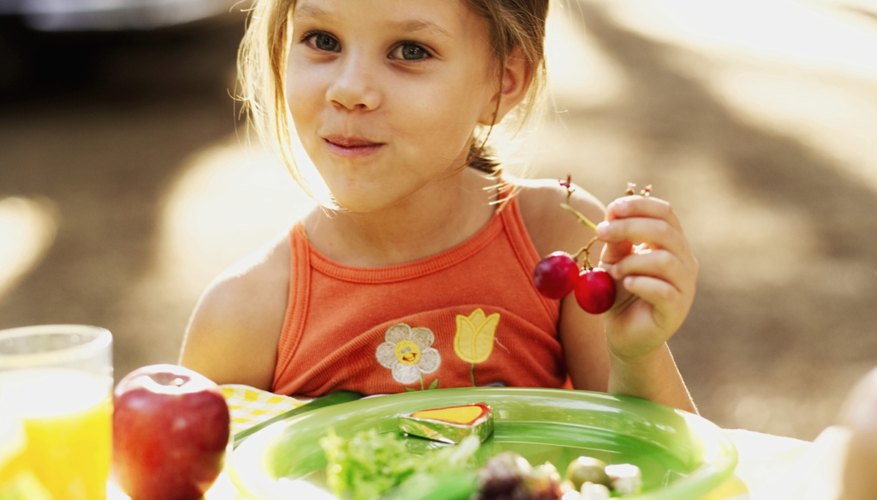 The menu for your preschooler's birthday celebration should consist of foods that will provide her and her friends with the right nutrients for their growing bodies. Simply substitute common kid food favorites with healthy and fresh ingredients and serve them up in creative ways for the young party attendees to enjoy.
Veggie and Fruit Faces
Edible faces will not only serve as a party snack but will be a fun craft activity for the preschoolers. Slice up several types of vegetables for the children to create facial features. Sliced cucumbers can be used for eyes, red pepper strips can be used for smiles, sliced grape tomatoes for noses and so on. Place the chopped vegetables in small bowls and lay a whole-wheat tortilla in front of each child. Allow preschoolers to select pieces from the bowls to arrange a face on their tortillas. Let them sprinkle on shredded low-fat cheese for hair. Additionally, slice pieces of fruit for children to use to make fruity faces.
Shaped Sandwiches
Bite-sized sandwiches will be ideal for preschool party guests to grasp with their small hands. Simply fill whole-grain sandwiches with healthy spreads, such as avocado, hummus or light cream cheese. For a meat-filled sandwich option, try low-fat turkey and cheese. Transform the sandwiches to coincide with your preschooler's party theme to add a creative touch to the party. Press cookie cutters on top and remove the excess bread to create the perfect shape. If your little guy is having a space-themed party, make rocket or alien sandwiches. For a girl who adores princesses, make crown and glass slipper sandwiches for her and her friends to nibble on.
Whole-Wheat Mini Pizzas
Instead of ordering a few greasy pizzas from a restaurant for preschoolers to eat, create a healthy alternative at home. Split open several whole-wheat English muffins. Simply spread on tomato sauce and sprinkle low-fat cheese on the halves. Top the halves with sliced fresh vegetables, such as green pepper strips and chopped olives. Place them on a baking sheet and put the pizzas in the oven. Bake until the cheese is melted. For a fun party activity, let the preschoolers pretend to be little chefs and help you with the pizza-making process. They can sprinkle on the cheese and place toppings on the pizzas before baking.
Layered Yogurt Parfaits
Birthday cake and cupcakes are the traditional birthday desserts for the children's party menu. Substitute the sugary treats with healthy yogurt parfaits. Begin the parfaits by placing spoonfuls of vanilla yogurt in clear plastic cups. Then, put in a handful of whole-grain cereal. Follow with a layer of fresh, sliced strawberries or blueberries. Continue the layers until you've reached the top of each cup. Remember to smooth each layer to create a neat appearance. Drizzle honey on top of each parfait. Alternatively, you can substitute crumbled low-fat granola in place of the cereal or low-fat whipped cream in place of the yogurt.