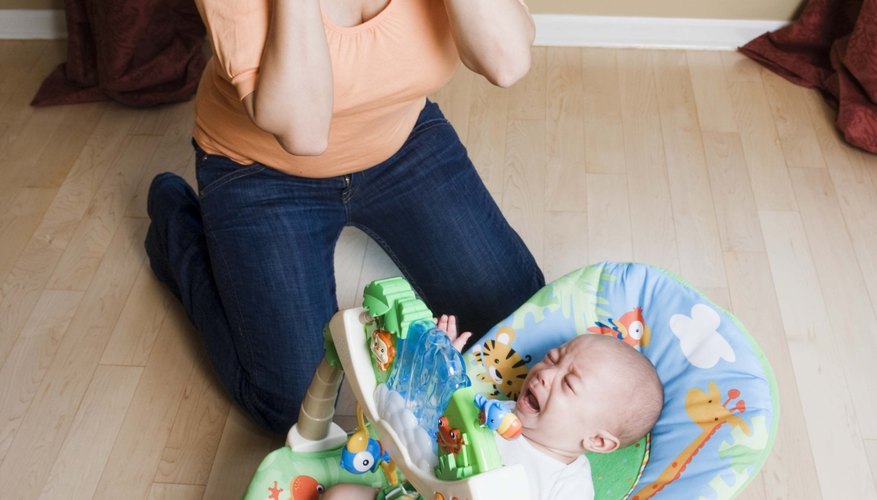 Parenting comes with enough challenges to tax the best of parents. What works today with your baby or toddler often doesn't work with an older child, so you constantly have to stay on your toes if you want to be an effective parent. No child comes with instructions, so you have to read your child and change as the child does.
The Pressure
The internal pressure to be the best parent possible can stretch you. You could beat yourself up for all the time you lose your cool, say the wrong thing, forget something important or fall short in your own eyes. The good news is that your child probably won't be warped for life by any of these occasional missteps. Give yourself a break and realize that you are doing the best job you know how, according to Dr. Valerie Davis Raskin, author of "The Making of a Mother: Overcoming the Nine Key Challenges -- From Crib to Empty Nest." You can continue to learn new parenting techniques as your child ages that make your parenting more effective.
Share the Load
The constant pressure to be perfect can cause burnout, counsels the AskDrSears website, so turn loose of the need to do it all yourself and let others share the load. Let Dad take a turn at parenting alone or send your child to spend the night with Grandma. Trust your child's teachers to provide effective classroom management and competent role-modeling. Turn off that internal voice that says you can't make a mistake and just be yourself. Trust your child to tell you what he needs through his cries as a baby and his words and actions as he ages and becomes a better communicator. When you need more help, you can consult your pediatrician and other health care workers.
Adapting Your Parenting
When your child is young, if she doesn't come when you call her, you can just pick her up and move her to where you want her. That doesn't work with a teen. To be an effective parent, you have to stay on top of the developmental changes of your child and adapt your parenting accordingly. You can read parenting books and take parenting classes to learn new strategies and use what works between you and your child. Additionally, you could find that you have to parent each child differently to be the most effective, according to relationship author Gary Smalley, author of "Home of Honor."
Difficult Days
Every parent has days when her child isn't cooperative, fights you at every turn and makes you wonder why you ever thought parenting was a good idea. Fortunately, you also have days when you love your child and being a parent and wouldn't trade the job for anything. Raskin suggests that you take a look at your life realistically on those days. If you see that your child isn't always oppositional, your expectations are usually realistic and your discipline is consistent, you can cope with the hard days as you move forward. If one of those elements is out of balance, bring it into balance or ask for help.